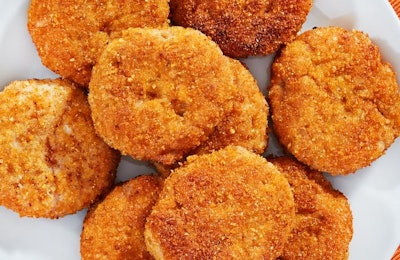 Canadian meat and poultry company Olymel has redeveloped its Orenda poultry further processing plant in Brampton, Ontario, and has acquired an additional plant, also in Brampton.
The company has invested more than CA$30 million (US$23.4 million) in the process, which has added more than 50,000 square feet to the existing surface area of the two poultry processing plants and has created more than 100 jobs.
The additional space will increase Olymel's production capacity, particularly in the breaded poultry products segment, the company stated. That increased capacity will enable Olymel to better capitalize on business opportunities in the hotel, restaurant and institution (HRI) network, as well as the retail distribution sector.
The Orenda plant, which had reached its full production capacity, is now equipped with a fourth breading line and high-performance equipment that are resulting in higher productivity and efficiency gains. The plant also now has the capability to produce gluten-free products. About 320 people are employed at the plant.
The new plant, known as the Westwyn plant, specializes in deboning, which was previously done at the Orenda plant. The Westwyn plant employs about 315 people.
"This major investment and the operational reorganization in the Ontario poultry sector were necessary for Olymel to continue to develop its markets, particularly in the breaded poultry products segment, whose popularity shows no signs of slowing. Olymel is consolidating its position in the poultry sector in Ontario and in Canada by giving itself considerable means to increase its production capacity, actively participate in the economic development of the agri-food processing sector, and create new jobs," stated Olymel President and CEO Réjean Nadeau.
Olymel, according to the WATTAgNet Top Poultry Companies Database, is Canada's largest poultry processor and second largest pork processor. The company exports roughly one third of its production, mainly to the United States, Japan and Australia.