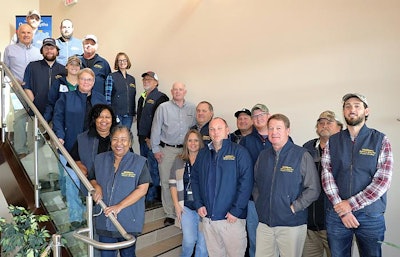 Mountaire Farms, the nation's seventh largest chicken processor, just celebrated a key safety milestone – 25 years without a lost time accident for its Grow Out Team on Delmarva, company officials announced Nov. 28.
"To have worked 25 years without an incident is an incredible achievement," said Dr. Carl Heeder, Mountaire's vice president of live operations. "Our team has worked hard to instill that safety is our number one priority and we reinforce that message every chance we get."
The Grow Out Team is dedicated to servicing the hundreds of poultry farms in Delaware, Maryland and Virginia. Flock supervisors are responsible for about 25-30 farms each and are broken up by region. On average, a flock supervisor will drive 45,000 miles a year in all kinds of weather conditions to check on birds. The job often requires a seven day per week commitment, as they are always on call. The health of the flocks in the field are the number one responsibility for the Grow Out staff.
"Grow Out travels all around the Eastern Shore to provide support services for our growers," according to John Ward, director of safety and health at Mountaire. "They have achieved this by making 'Safe Production' a daily focus."
The company held a luncheon recently to thank the team for their safety record, and every team member received an embroidered jacket as a gift. Four team members were recognized for serving since the safety streak began: Janet Bowden, Steve Windsor, Woody Jackson and Karen Bailey.