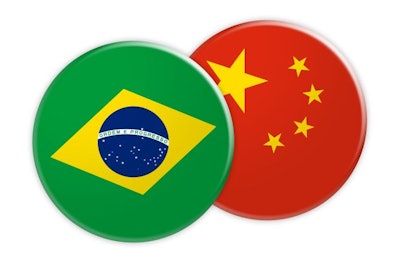 Poultry meat production is forecast to rise from just over 121 million metric tons over the average of the base period 2016-18 to more than 141 million metric tons by 2028, according to the latest Agricultural Outlook projections by the Food and Agriculture Organization (FAO) and Organization for Economic Cooperation and Development (OECD).
Poultry will continue as the most popular meat type produced over the next decade, partially thanks to its short production cycle, which allows producers to respond quicker than other meats to market demands, and production benefits that make it more sustainable for the environment than some other animals. By 2028, nearly 141 million metric tons of poultry meat are forecast by FAO to be produced, with pig meat forecast at almost 129 million metric tons, beef and veal production at nearly 77.5 million metric tons, and sheep meat at just 17 million metric tons.
Poultry production is expected to increase by 20 million metric tons, according to FAO, accounting for nearly half of the total increase in meat production over the coming decade, with intensified production and being able to take advantage of favorable feed prices while also expanding its global production base.
Current situation, future overview of key, emerging players
As of 2018-19, FAO says the majority of poultry meat production comes from the regions of Asia, North and South America, and Europe, thanks to key market players like China, the U.S., Brazil and the European Union. Over the long term, individual countries like China, the U.S., Brazil, India and Mexico are projected to continue to contribute significantly to the additional poultry meat volume by 2028 compared with their average in the base period 2016-18.
According to estimates from the U.S. Department of Agriculture (USDA), U.S. broiler production is estimated to increase only slightly from nearly 42.6 billion pounds in 2018 to 44 billion pounds in 2020. Turkey production is set to rise only slightly, as well, from 5.88 billion pounds in 2018 after dipping negligibly in 2019 to 5.93 billion pounds in 2020.
Brazil's outlook for poultry meat production, according to a USDA report, calls for a 2.5% increase by 2020. This is attributed to rising global chicken meat demand, especially from China. Brazil is on track to see slight increases in production and consumption from 2018 to 2019.
In addition to gains in Brazil, production of poultry has grown significantly throughout the Latin America and Caribbean region. FAO estimates poultry production will have increased by 302% over the past two decades largely due to expansion in aviculture and emerging technology.
In another large market, the European Union produced a record high 15.2 million metric tons of poultry meat in 2018, according to Eurostat. About 70% of this production came from just six member states: Poland, the United Kingdom, France, Spain, Germany and Italy.