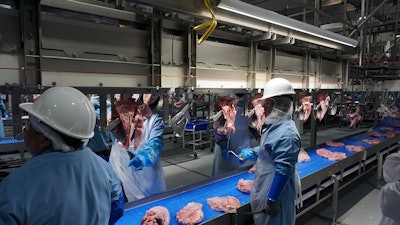 Austin Alonzo
Prestage Farms' new, $180 million processing plant will secure its relationship with its biggest client and keep the company under family ownership.
The new, 293,000-square-foot facility, in Camden, South Carolina, opened at the end of 2022. The new facility was built primarily to slaughter and debone turkeys for Prestage's largest customer: The Kraft Heinz Co.
The Camden plant
The Camden facility, as of early May 2023 was processing about 160,000 toms per week at an average weight of 45 pounds. Turkeys are gas stunned and air chilled. The plant was built by Gray Construction.
Camden employs 105 in evisceration and 130 in deboning. The plant typically operates Monday through Friday with its staff working four 10-hour shifts per week.
Inside, it runs two slaughter and evisceration lines and each are designed to run at 48 birds per minute. It also runs three deboning lines designed to run at 32 birds per minute and about 170 turkey farms supply the plant. Its run by Prestage Farms Plant Manager Wes Hoover.
Prestage Farms
Prestage Farms, based in Clinton, North Carolina, is a family owned and operated, vertically integrated turkey and pork producer founded in 1967. It maintains operations in Iowa, Mississippi, North Carolina, Oklahoma and South Carolina.
According to WATT PoultryUSA's 2023 Top Turkey Company rankings, Prestage is the 12th largest turkey processor in the U.S. in terms of total live pounds processed. In 2022, it processed 150 million pounds of turkey. It operates a turkey plant in St. Paul's, N.C., too.
Prestage Farms CEO Zack Prestage said opening this plant gives the company total control of its live operation. It's currently planning on processing about 8 million heavy toms in 2023.
"These volumes can increase slightly as we can comfortably sustain full production, but this is our sweet spot," Zack Prestage said.
The new plant in Camden is Prestage Farm's latest addition to its turkey business. In March 2019, the company opened a $320 million, 700,000-square-foot pork processing plant in Mason City, Iowa.
Kraft
Prestage Farms President and Founder Ron Prestage said the relationship with Kraft is a key part of the company's turkey business and stretches back nearly three decades. It changed in 2014, however, when Kraft – the owner of Oscar Mayer and other brands – was acquired by Heinz forming the new multinational company.
Kraft-Heinz, with new leadership, approached Prestage Farms and said it was no longer interested in operating a slaughter plant. It asked if Prestage would build a new slaughter plant primarily to sell to Kraft-Heinz. After six years of on-and-off negotiation, they reached a deal.
Ron Prestage said their agreement is essentially a cost-plus contract assigning Kraft-Heinz first choice on all the meat coming out of the plant. Zack Prestage said about 70 to 80% of the meat processed at the plant will be purchased by Kraft-Heinz.
"This makes our North and South Carolina operations both strong," Ron Prestage said. "Kraft is now out of the business they wanted to avoid, which was slaughter."
Formerly, the work for Kraft took place at Kraft-Heinz's Newberry, S.C., plant. Newberry will now focus on further processing. Zack Prestage said the Newberry plant is completely owned by Kraft and its shareholders.
The Camden plant will also process birds from Circle S Ranch, a turkey integrator based in Monroe, N.C. Zack Prestage said the companies worked alongside each other for years supplying turkeys for Kraft. Prestage is now in agreement to procure live turkeys from Circle S and process the meat in its plants.
Labor savings
With less than 250 workers, the plant employs far less than a comparable operation. These manpower savings are achieved by deploying technology used for the first time with tom turkeys this large in the U.S.
Ron Prestage said the plant's entire design was centered around labor. It wasn't his intent to have a European-style plant with controlled atmosphere stunning, air chilling and heavy automation of further processing. However, the reality of the market and the changing size of the bird forced the move.
Automation and new technology
Prestage Farms President and Founder Ron Prestage said the Camden, South Carolina, plant took advantage of every opportunity to automate. But it faced a steep learning curve while using the new equipment.
Automated equipment must be set up and maintained properly and, Ron Prestage said, it takes time to get staff trained to use the equipment. He said he appreciated the support from Marel. The company provided most of the equipment at the plant.
Nick Gasbarro, segment leader for Prime Equipment Group at JBT-Prime Equipment Group, said prime provided automation equipment for the Camden facility's evisceration and deboning operations and provided equipment to help clean carcasses in evisceration.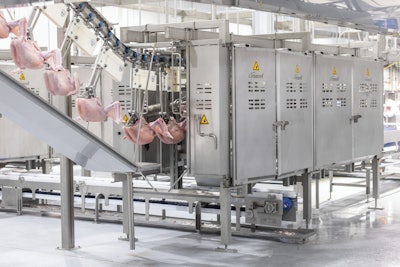 Arjan Schrauwen, Marel's product specialist for turkey, said the Camden plant features an intervention room. It's the first one installed at a turkey plant in the U.S. Because of air-chilling, a separate area is needed for applying preharvest interventions.
In the intervention tank at Camden, carcasses hang up to their wings in water to which a permitted disinfecting chemical has been added, Schrauwen said. A system of sprays applies the mixture to the inside and outside of the carcass.
All venting, opening, evisceration, cropping, neck removal, lung removal, washing and neck cleaning processes executed on both lines in the evisceration room are automated.
He highlighted work performed by Marel's turkey vent cutter, turkey eviscerator and automatic cropper. These machines save labor and reduce the risk of cross-contamination, he said, and remove some of the hardest jobs in the plant. An automated evisceration line uses considerably less water, too.
In the deboning room, Camden uses Marel ACM-T cut-up systems and three FHF-XT front half deboning systems. After deboning, fillet and tenderloin products are screened by Marel SensorX bone detection systems to avoid residual bone residue and other contaminants.
Each bird is weighed going into the air-chiller and the Marel system remembers its weight. When the birds are dropped on the deboning lines, they are distributed by weight, so the equipment is set for different sized carcasses on each line.
"Automated cutting in various processing modules ensures maximum product utilization and a high yield," Schrauwen said. "The large diversity in filleting methods enables an adequate, tailor-made response to customer demands with optimum flexibility and yield."
"In this way, Prestage Farms can minimize their manual operations. The remaining work is easy, with low need for personnel training."
Additionally, the Camden facility uses Marel's Innova PDS software to maximize traceability.
Machinery for producing mechanically separated turkey were provided by Poss.
Air chilling
Prestage Farms President and Founder Ron Prestage said the size of the large toms processed increased dramatically in the past thirty years. With birds so big, it's getting hard to sufficiently chill the bird fast enough using traditional water chilling.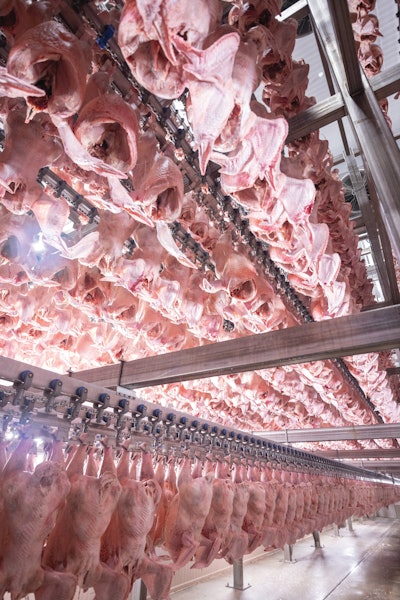 For him and his employees, air chilling made sense. Prestage Farms CEO Zack Prestage said air chilling allows the plant's primary and secondary processing operations to run independently. Birds are slaughtered Monday through Thursday and deboned Tuesday through Friday.
"Downtime on one side does not cause us downtime on the other side because we don't have to run in unison," Zack Prestage said.
For employees, a four-day work week is appealing. For maintenance staff, the extra downtime in one area of the plant creates more time to clean and maintain equipment. This, Zack Prestage said, saves employees. So far, he said he's seen a very low turnover rate, especially for a startup plant.
Air chilling brings other benefits, too. Ron Prestage said air-chilled meat gains a 40 to 50% longer shelf life over water chill.
The air chiller is emptied out over the weekend and cleaned. Evisceration begins at 8 Monday morning and runs a 10-hour shift daily through Thursday. Each evisceration line fills three air chill rooms over the course of a shift. Each carcass is in the air chill room for at least 20 hours.
Arjan Schrauwen, Marel's product specialist, for turkey, said in air chilling plants, its common to chill birds one day and debone the next. Camden uses six air chill tunnels in all to accommodate up to 48,000 turkeys.
Schrauwen said the air temperature is always kept above freezing and never falls below 35° Fahrenheit. Actual air temperatures used are dictated by processing parameters.
He said Camden maintains the green weight of the carcass through the chilling process by using DownFlow technology. This is a series of cabinets installed at given points in the tunnel which apply a thin film of water to the external, internal or both surfaces of the turkey carcass.
This prevents carcasses from drying out and losing weight. This is used on-and-off depending on the finish required.
Stunning
Camden uses a controlled atmosphere stunning system (CAS), joining a trend in the turkey industry.
The operation uses a Humane-Aire stunner manufactured by Midway Machine Technologies.
Terry Geertman, the co-owner of Midway Machine Technologies, said the CAS system uses carbon dioxide (CO2) to stun the birds. During the stun, CO2 levels increase from 25 to 80%. Humane-Aire uses a proprietary sensor to tightly control the flow of the gas to stun the birds without struggle. This technology also reduces the usage of CO2.
Geertman said the CAS system allows for a heartbeat several minutes after stunning so birds can be presented to a kill machine with a heartbeat for religious slaughter requirements, if necessary.
The CAS system also features an integrated cage washing and sanitizing system to reduce the amount of Salmonella and the risk of bird flu between loads.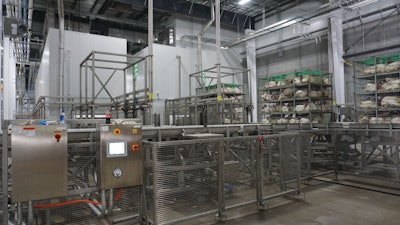 In terms of labor savings, Geertman said his customers experience a return on investment with its stunning system, cages and trailers. Animal welfare is also improved by using a cage design which enhances mechanical loading at farms. These cages are handled by overhead cranes so birds aren't touched by workers until they are unconscious.
"We have been able meet and exceed the expectations of our customer through yield improvements, labor saving, improved meat quality, less labor turn over, less wing damage, increased shelf life, improved animal welfare and improved labor welfare," Geertman said.
The CAS layout is larger at Camden than a typical plant. Geertman said a normal footprint for a single Humane-Aire CAS system feeding a single shackle line is about 12,000 square feet.
Overall, there are 12 Humane-Aire CAS systems for turkeys in the U.S. and Canada. Two plants in the U.S. use a Humane-Aire CAS for hens and one in Canada uses a CAS for hens and toms.
There are five broiler plants in the U.S. and three in Canada using Humane-Aire CAS systems, too. Two more chicken systems are built and will begin operations in 2023. These plants are used at both big bird and tray pack plants.
The family business
Ron and Zack Prestage take pride in their family's business. They aren't the only Prestages involved either.
Ron Prestage said his younger brothers, John Prestage and Scott Prestage, are also leading sectors of the business. Ron Prestage oversees operations in South Carolina and Mississippi. Scott Prestage oversees North Carolina turkey operations. John Prestage and Ron Prestage split leadership of the Iowa operations.
Ron Prestage said he built the plant for Zack Prestage as much as he built it for Kraft. He said other members of Zack's generation are interested in continuing the family business, too.
"I did not build this plant for me at all," Ron Prestage said. "If I didn't have him and his sister and my interest in keeping this family business as a family business, I would have never built this plant."
Private label success
Along with Kraft, Ron Prestage said his companies found good buyers by simply wrapping his product in whichever label necessary. Other major turkey producers, he said, wouldn't be willing to wrap and label their turkey for private label sale, but Prestage Farms doesn't hesitate. Because of this, it's a major supplier to grocers in the Southeast.
"I don't care whose name you want on the bag," Ron Prestage said. "We realized that our brand doesn't have any big value to it.
"But what we can do is we can try to give each retailer a further processor that wants us to provide product to them. We will prioritize you instead of making you the redheaded stepchild."
Wholestone Farms, Prestage Foods form joint venture www.WATTAgNet.com/articles/46816