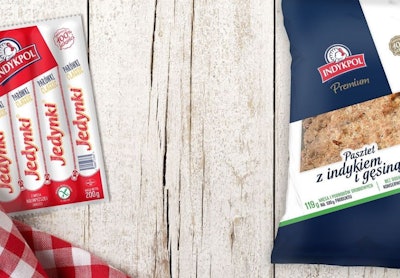 Courtesy Indykpol
LDC, the largest poultry producer in France, announced that it is in talks to acquire Indykpol, a Poland-based turkey company.
According to a notice from LDC, which already has a solid presence in Poland through its subsidiaries, could expand its presence and product range in the market. Indykpol had a consolidated turnover of EUR228 million (US$248 million) in 2022, with more than 60% of the company's sales in the domestic market.
Indykpol, according to its website, offers a wide variety of turkey products, including ground turkey, turkey breast cutlets, diced turkey thigh meat, turkey breast fillets, turkey tenderloins, drumsticks, liver, necks, wings, hearts, gizzard, goulash filet meat, turkey breast schnitzels, sausages, and cured meats. The company also offers halal products.
LDC stated that it aims to finalize an agreement and a related transaction during the first half of 2024, pending the relevant authorizations from competition authorities.
It was reported in 2021 that LDC was exploring opportunities to acquire businesses elsewhere in Europe, including in Poland.
Other acquisitions made recently by LDC include the egg production business Matines, hatchery business Galina Maine, and poultry processor Savic Freslon, all of France, and Capestone Organic Poultry of the United Kingdom.
LDC, according to information from the WATTPoultry.com Top Poultry Companies Database, slaughtered 475.8 million broilers in 2022. It also operates in the turkey, duck and table egg sectors.