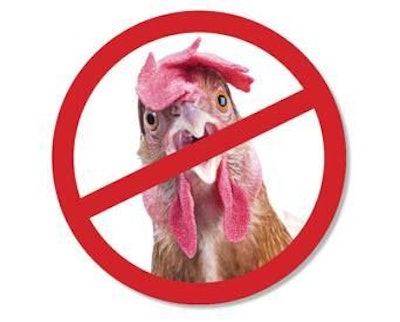 The worldwide spread of highly pathogenic avian influenza has led to the loss of over 20 million laying hens and turkeys in the U.S., which will reduce U.S. turkey and table egg production in 2015. But it is likely that this lost production will be dwarfed by the number of broilers, turkeys and eggs that aren't produced around the world in 2016 and later, according to Jerry Moye, president, Cobb-Vantress.
Current bans on shipments of genetic stock from the U.S., UK and Canada aren't impacting supplies of poultry meat and eggs outside of North America now, but breeders warn that these bans will eventually result in large numbers of empty incubators and poultry houses and shortages of meat and eggs in countries that have not followed OIE guidelines and have banned importation of genetic stock from entire countries. Dr. Alberto Torres, veterinarian exports manager for Cobb-Vantress, explained that EU countries and Brazil recognize regionalization and have continued to import genetic stock from the U.S. and the UK, which are the source of 92 percent to 95 percent of the world's broiler genetic stock. He said that China and most of the countries in Southeast Asia have banned imports of genetic stock from both the U.S. and the UK, which had a couple of avian influenza cases in November 2014. Turkey genetic stock is similarly concentrated in North America and the UK, but layer genetic stock is less concentrated in the U.S. and UK, with major companies located in other EU countries.
The multiplier affect
The initial impact of these bans on imports of poultry from the U.S. may be for American leg quarters and paws to disappear from the Asian marketplace, but the big impact comes when the grandparent stock that aren't imported today can't produce parent stock, which then don't produce the meat birds down the road. Grandparent and parent flocks are maintained around the globe, and these multiplier flocks are the means by which the best individuals from heavily selected lines of birds are crossed to take the gene combinations present in thousands of birds to produce the billions of birds raised around the world each year.
Because there are two generations used to multiply new genetic stock to produce the numbers needed in the commercial broiler industry, there is a time lag before the impact importation bans will reach the processing plant. Bans put in effect on genetic stock from the U.S. in early 2015 likely won't be felt by consumers in importing countries until the second half of 2016. The timing is different for layers and turkeys, because of differences in age at sexual maturity and number of generations necessary to produce the required numbers, but the general principal is the same.
Other sources of poultry genetics
Torres said that some companies that purchase grandparent stock and operate in countries that have instituted countrywide bans on imports of poultry from the U.S. and the UK have asked about availability of parent stock in the future since they couldn't take the grandparents that they ordered. He said that breeding companies have to explain that they don't have any farms to place the grandparent chicks on and then raise them. These skipped or cancelled orders will cascade through the company's system and will ultimately lead to no or fewer birds at the processing plant or shell eggs at the grocery store.
Moye said that some companies in countries that have instituted bans on importation of genetic stock will molt at the parent and grandparent level, but that they will likely have fertility issues. Molting may work reasonably well for hens, but it doesn't work well for males. Companies producing table eggs will also be able to molt production flocks to maintain a supply of eggs if they don't have access to replacement chicks, but overall egg output would still decline.
International Poultry Council looking for help from OIE
The International Poultry Council has asked the World Organization for Animal Health (OIE) to encourage member countries to abide by OIE guidelines when imposing trade restrictions on poultry meat and breeding stock. Poultry breeders are hopeful that following OIE guidelines, which allow importation bans to be placed on affected regions of a country, will help reduce trade disruption today and help prevent shortages of poultry meat and eggs in the future.
Dr. Helen Wojcinski, science and sustainability manager for Hybrid Turkeys, which is part of Hendrix Genetics, explained, "OIE guidelines require trading partners to base government restrictions on sound science and limit trade restrictions to a defined region or area that is at risk of spreading the disease. However, they cannot mandate the actions taken by each country with regard to regulations governing imports and exports."