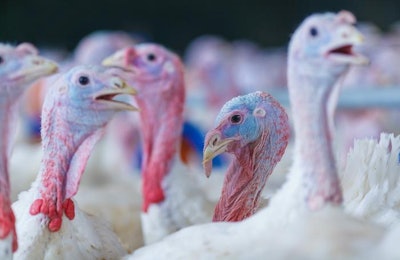 Highly pathogenic H7N8 avian influenza has been confirmed in a commercial turkey flock in Dubois County, Indiana, the USDA Animal and Plant Health Inspection Service (APHIS) confirmed on January 15. The number of birds in the affected flock has not yet been released.
This marks the first confirmed case of highly pathogenic avian influenza (HPAI) in 2016 in the U.S. However, APHIS points out that this is a different strain of HPAI than the strains that caused the avian influenza outbreak in 2015. According to APHIS, avian influenza viruses are classified by a combination of two groups of proteins: hemagglutinin or "H" proteins, of which there are 16 (H1–H16), and neuraminidase or "N" proteins, of which there are 9 (N1–N9). Many different combinations of "H" and "N" proteins are possible. Each combination is considered a different subtype, and can be further broken down into different strains.
Samples from the turkey flock, which had experienced increased mortality, were tested at the Indiana Animal Disease Diagnostic Laboratory at Perdue University, which is part of USDA's National Animal Health Laboratory Network.
APHIS is working with the Indiana State Board of Animal Health on a joint incident response. The property has been quarantined and depopulation of birds on the premises has begun. State and federal officials have started conducted additional surveillance and testing of birds in the nearby area.
Earlier cases of avian flu in the U.S.
According to APHIS, the only case of avian influenza in Indiana in 2015 was in a backyard poultry flock in Whitley County. That flock was affected by highly pathogenic H5N8 avian influenza in May.
More than 48 million birds in the United States were lost to avian influenza in 2015. The last confirmed case of HPAI occurred in June 2015, when about 1 million layer hens in Iowa were affected by H5N2 avian influenza.
The only other avian influenza detection since that time occurred in November in Oregon, when avian influenza was found genetic material collected from a wild mallard duck. However, tests conducted on those samples were unable to determine the exact strain of the virus or whether it was of the highly pathogenic or low pathogenic variety.
See the WATTAgNet avian influenza page to keep current on news about the virus and its impact on the poultry industry.