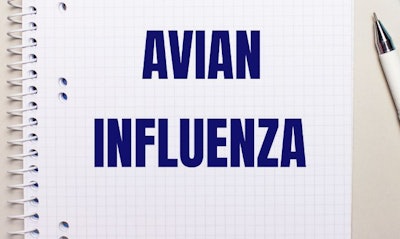 (Alena Dzihilevich | Bigstock)
State and federal officials have confirmed a positive case of highly pathogenic avian influenza (HPAI) in Taylor County, Iowa. The virus was found in a flock of commercial layer chickens.
According to the United States Department of Animal Agriculture (USDA) Animal and Plant Health Inspection Service (APHIS), there were 915,925 chickens in that flock.
"While this additional case of HPAI is not unexpected, we have prepared for this and are working closely with USDA and livestock producers to control and eradicate this disease from our state," Iowa Agriculture Secretary Mike Naig said in a press release. "This is a difficult time for poultry producers. We will continue to support them and emphasize the need for strict biosecurity on farms and around poultry to help prevent the spread of this disease."
This marks Iowa's second case of HPAI in a commercial poultry flock. The first case, confirmed on March 7, involved a commercial turkey operation in Buena Vista County County. According to APHIS, there were 49,816 turkeys affected in that case.
The Taylor County case brings the number of HPAI cases in a commercial layer flock in the United States in 2022 to four, involving flocks in four states. The other cases were reported in Jefferson County, Wisconsin; Cecil County, Maryland; and New Castle County, Delaware. The Jefferson County case involved the most birds, with 3 million layers affected.
In addition to the four states where HPAI has been detected in layer flocks, the virus has also been confirmed in commercial poultry flocks – including broilers and turkeys – in Indiana, Kentucky, Missouri and South Dakota.
Of the four North American flyways, HPAI has been detected in commercial poultry in three of them: the Atlantic, Mississippi and Central. However, the virus was also detected in a wild bird in the Pacific Flyway.
To learn more about HPAI cases in North American commercial poultry flocks, see an interactive map on WATTPoultry.com.
Read our ongoing coverage of the global avian influenza outbreak.