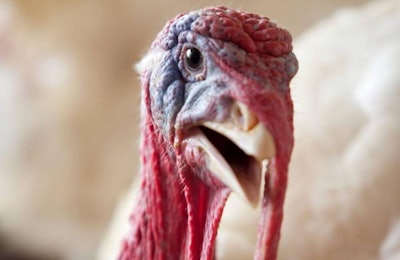 Two farms in Ontario, Canada, where highly pathogenic avian influenza (HPAI) was confirmed collectively housed 14,450 commercial turkeys.
According to a report on the World Organisation for Animal Health (OIE) website, one of the farms, in the Oxford region, saw 375 birds die after being exposed to HPAI. There was a total of 8,800 susceptible 4-week-old turkeys on the premises.
The other farm, according to the OIE, is located in the Wellington region, and housed 5650 birds. Of those, 600 turkeys died after contracting HPAI. The birds at this farm were 13-week-old breeding turkeys.
Control measures being taken include:
Official destruction of animal products
Zoning
Surveillance within the restricted zone
Surveillance outside the restricted zone
Quarantine
Disinfection
Traceability
Stamping out
Th OIE report was published following an earlier notification published by the Canadian Food Inspection Agency (CFIA) that alerted the public that HPAI had been confirmed at two Ontario farms. However, specifics about the species of bird or the number of birds had not yet been disclosed.
Ontario has also had a confirmed case of HPAI in a wild red-tailed hawk.
With the inclusion of these cases, HPAI has now been confirmed in six Canadian provinces. In addition to Ontario, the virus has also been confirmed in Nova Scotia, Newfoundland and Labrador, British Columbia, New Brunswick and Prince Edward Island.
However, Nova Scotia is the only province other than Ontario to have a confirmed case in a commercial poultry flock. That affected flock involved 11,800 turkeys.
HPAI has been confirmed in all four North American flyways in 2022. In the United States, the virus has been found in commercial poultry flocks in Minnesota, South Dakota, Iowa, Nebraska, Maryland, Delaware, Indiana, Kentucky, Missouri and Wisconsin.
To learn more about HPAI cases in North American commercial poultry flocks, see an interactive map on WATTPoultry.com.
Read our ongoing coverage of the global avian influenza outbreak.