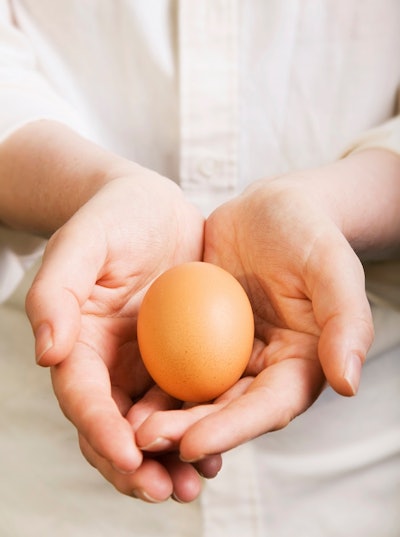 How the egg industry and non-profit organization HATCH are fighting food insecurity in the U.S. came under the spotlight at the Protein Secure: Fighting Food Insecurity event held in conjunction with the 2023 International Processing and Production Expo (IPPE).
To address growing food security issue in the U.S., HATCH connects animal protein producers and food pantries. Currently, HATCH partners with UEP-certified producers including Rose Acre Farms, S&R Egg Farm, MPS Egg Farms, Country Charm and Nellie's Free-Range Eggs.
In 2022, HATCH provided 5.1 million dozen eggs, the equivalent of over 31 million meals, to food banks and pantries. Currently, it directly works with 16 food banks and 105 pantries.
"I've never met an industry that gives back more than the egg industry does. Fighting food insecurity with a perfect protein is something that our egg farmers are passionate about. Last year alone, American egg farmers donated 90 million eggs," said Emily Metz, American Egg Board (AEB) President and CEO.
According to Jeff Simmons, Elanco Animal Health CEO, hunger is a complex issue and the problem the U.S. is facing does not only involve feeding hungry people but feeding them healthy foods. Eggs are the key ingredient for solving the U.S.'s food insecurity crisis and will make a real impact in the lives of those who consume them, explained Simmons.
"Given the current pressures impacting animal protein prices – like the rising cost of eggs – and the growing number of people facing food insecurity – this event couldn't have been more timely," stated Danny Leckie, HATCH Executive Director.
Logistics and cage-free hurdles
Providing eggs to undernourished families, while the industry is overcoming a period of instability due to high egg prices and avian influenza, presents challenges.
The logistics of donating a refrigerated product, such as eggs, requires coordination between the farm and the consumer. However, obtaining eggs from HATCH coolers placed in food pantries throughout the U.S. helps provide a safe and nutritious meal option to undernourished families.
Metz explained AEB is working on helping HATCH solve problems that are preventing eggs from being distributed to more food pantries, such as lack of refrigeration or transportation.
Even with the current challenges that the U.S. egg industry is dealing with, for example the financial strain of cage-free conversions, Chad Gregory, United Egg Producers (UEP) CEO and President, explained that egg producers are still passionate about helping those struggling with food insecurity.
"We need everybody involved because it's going to take a village to do this," said Gregory.