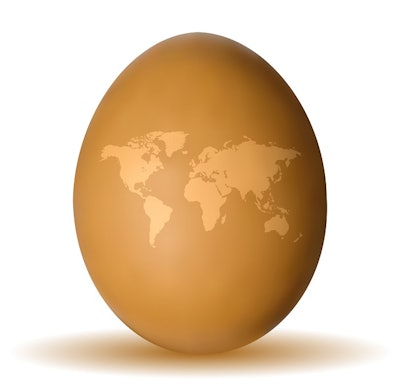 Mahesh Patil - Fotolia
A new alliance between vision engineering technology company RoTa Technologies and processing equipment manufacturer NABEL Co., Ltd. will bring egg grading and packing equipment to the U.S. market.
RoTa Technologies has announced that it has become a sole distributor for the Japan-based equipment company, which primarily serves the Asian poultry market.
NABEL's full line of equipment will be available to U.S. egg producers, which includes multiple designs of egg packers, graders, and quality detection machines. RoTa Technologies will manage all the sales, service and spare parts for NABEL.
The collaboration premiered at 2023 PEAK, a poultry production trade show held in Minneapolis, Minnesota, in which the pair sold their first piece of NABEL equipment in the U.S. While at PEAK, the partnership showcased NABEL's new Sakura 100 egg packer that features a compact design and can pack 100 cases, or 36,000 eggs, per hour.
"Our growing team of service engineers takes pride in servicing egg processing equipment, but also giving advice on ways to process eggs more efficiently," stated RoTa Technologies President Roberto Taormina. "Innovation and R&D has been an important part of RoTa Technologies' growth over the past few years. We are excited to work with NABEL and bring more reliable products to our customers."
RoTa Technologies, based in Michigan, provides technologies that aid in egg production, including the maintenance and cleaning of processing equipment. Additionally, it services all major brands of egg grading and packaging equipment and provides vision quality control products to the poultry industry.
"Conveyor belts will be needed when a NABEL packer and egg grader is installed. RoTa Technologies also specializes in customized conveyor solutions. Projects are easier when dealing with fewer vendors, and service can be provided by one company now for multiple areas of the processing floor," he said.
The team hopes that offering NABEL's products to U.S. producers will benefit the egg market and allow it to develop relationships that will be established in the U.S. Taormina added that a future goal for the collaboration is to open a NABEL headquarters in the U.S.