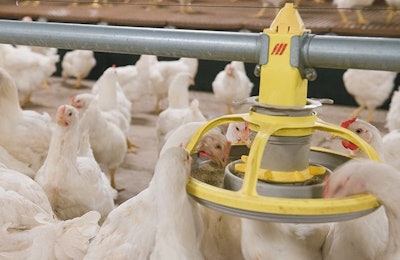 A recent report from the World Organisation for Animal Health (WOAH) revealed three additional cases of highly pathogenic avian influenza (HPAI) in commercial poultry flocks in Mexico.
All three of the affected operations involved broiler flocks, and collectively, the new cases led to the loss of 826,800 birds.
Two of the newly reported cases were in San Francisco De Los Romo. One affected flock included 208,000 chickens, while the other included 298,800 birds. The other case, involving 320,000 broilers, was located in Asientos.
All three cases were confirmed in February, after being detected through active surveillance. However, information concerning these HPAI instances did not appear on the WOAH website until May 24. Each of these cases involved the H5N1 serotype.
The same report showed that HPAI was also confirmed in a backyard flock in Chapa de Mota. There were 90 birds in that flock.
Control measures implemented include stamping out, quarantine, zoning, surveillance within and outside of the restricted zone and disposal of carcasses, byproducts and waste.
According to WOAH figures, Mexico has now had 30 confirmed cases of HPAI in commercial poultry, leading to the loss of nearly 6.5 million birds.
To learn more about HPAI cases in commercial poultry flocks in the United States, Canada and Mexico, see an interactive map on WATTPoultry.com.
Read our ongoing coverage of the global avian influenza outbreak.