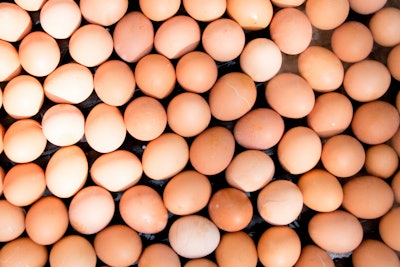 HsinJuHSU | iStockPhoto.com
German genetics company Lohmann Deutschland installed its second in-ovo sexing system in its Ankum-based hatchery.
The hormone-based sexing company Respeggt's Circuit technology was first installed in Lohmann's hatchery in 2022 after the announcement of the groups' partnership.
"We are very pleased to be able to double our capacity for in-ovo sexing at Lohmann Deutschland in Ankum. This shows that we have been able to prove our practice and capacity maturity over the past year," stated Martijn Haarman, Respeggt Group CEO.
"Despite the difficult economic situation in Europe last year, animal welfare and the production of more animal-friendly foodstuffs continue to be in high demand. Our sustainable solution to end chick culling means we can serve this demand well."
Lohmann's hatchery is the only hatchery in Germany that uses in-ovo sexing technology.
Eggs produced through the Respeggt system are labelled with a "Free of Chick Culling" guarantee.
Tobias Ferling, Lohmann Deutschland Managing Director, added, "To be able to meet the increased demand for in-ovo sexed chicks using the Respeggt process, an additional circuit will be commissioned at the hatchery in Ankum in the near future."
Around the same time the first Respeggt system was installed in Lohmann's hatchery, hatchery equipment company HatchTech announced an agreement with supermarket chain REWE Group to take full ownership of Respeggt. Through the acquisition, HatchTech said it planned to accelerate international growth by utilizing its established network in the industry.
How theF system works
Female hatching eggs contain a gender hormone in the allantoic fluid that is collected from each egg on the ninth day of incubation. The sample is collected after a laser creates a miniscule hole in the shell that is immediately sealed with beeswax to minimize contamination.
After the fluid sample is evaluated using a patented marker, a color change on the marker will identify the sex of the chick depending on if the gender hormone was present or not, allowing producers to separate males from females before hatch.