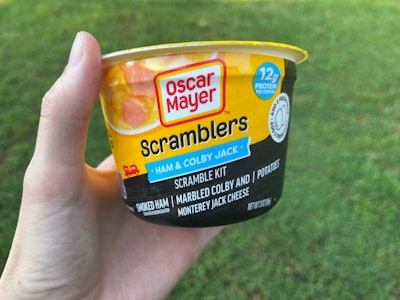 Courtesy Meredith Dawson
Oscar Mayer recently announced its first ever on-the-go refrigerated breakfast offering called Oscar Mayer Scramblers.
The product is available in three varieties: Bacon & Velveeta, Ham & Colby Jack and Wiener & Cheddar. To prepare the product, consumers will need to remove the ingredients from the cup, crack two shell eggs into the package, add the toppings back in, stir and microwave.
According to the company, the scramblers offering is the first time that two Kraft Heinz brands, Oscar Mayer meats and Velveeta cheese, have been combined into one breakfast product.
"While people crave a tasty breakfast, it is often compromised with quick, boring options due to busy weekday mornings—and boring is the antithesis of what Oscar Mayer stands for," stated Kelsey Rice, Oscar Mayer Associate Director.
Along with the launch of the new offering, Oscar Mayer has debuted its new "Scramble Your Morning" campaign featuring its scramblers. The ads, featured on the company's social media accounts and television, compare a consumer's busy, or scrambled, morning to words with mixed up letters.
While this offering seems niche, other brands have come out with similar products to compete in the convenient, on-the-go breakfast category. Two companies with comparable breakfast cups are Just Crack an Egg and Jimmy Dean.
My experience
I decided to try the Ham & Colby Jack option, but all three were available at my local grocery store. Upon opening the package, there were three ingredients: ham, cheese and diced potatoes (to my surprise). I followed the instructions exactly as noted on the package.
While I really did enjoy the product, I thought it needed salt and pepper. Fortunately, almost everyone already has salt and pepper in their house, and the seasonings are an inexpensive addition. I was able to purchase the scrambler for US$2.59. With the addition of two conventional eggs, the total came to approximately $3.
Would I eat these every day? Probably not. Would I keep a couple in my fridge for when I find myself short on time in the mornings? Definitely.