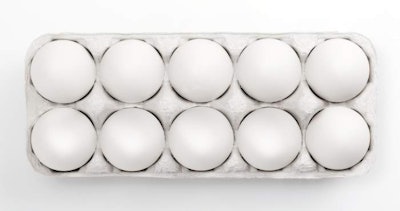 Getty Images/iStockphoto
Because the California egg market is already 100% cage free, the industry continues to look to the state for financial insight.
The current state and future prospects of the California egg market were discussed by Economists Andrei Rjedkin and Angel Rubio during the Egg Market Forecast webinar organized by Urner Barry.
"Cage-free layers now represent 36% of the U.S. layer population, which is a large increase from 15% in January 2017," stated Rjedkin.
The year-over-year monthly growth rate for cage-free layers in the U.S. was 33.6% in January 2018, then dropped to 9.1% in July 2021. A sharp increase occurred in January 2022 to approximately 40%, most likely due to cage-free mandates going into effect. Since that time, the rate has been decreasing, with May 2022 showing a 23.8% increase.
According to Rubio, after the outliers were removed from the data, which includes the spike in California's egg prices in January 2022 as well as the variable prices during the cage-free transitional period from August 2021 – November 2021, the actual price increase per carton of eggs is $0.08 per dozen wholesale in California since 2020.
Urner Barry's data suggests that large egg retail prices in the California egg market will stay around $2.60 per dozen in the coming months but could increase to $3.00 per dozen mark in the Fall.
Rjedkin continued, "Similar to other shell egg markets, the California quote is expected to remain at higher thresholds, despite the regular seasonal adjustments, for the future."
"Something that we're going to keep an eye on is the rate at which these cage-free layers are added into the population, which will determine any future price variation."
Is the war in Ukraine increasing U.S. egg prices?
While we know that the Russia-Ukraine conflict is having an impact on grain prices in the U.S. markets, we are not confident that egg prices are being significantly impacted by the event, explained Rubio.
"It is affecting the bottom-line price because it is part of the cost to produce the egg. However, it is probably not going to impact retail prices significantly. We are not sure what the magnitude of the impact will be at this time," stated Rubio.