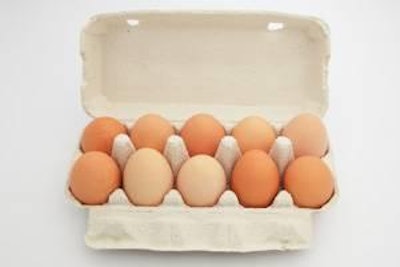 Between 1990 and 2007, global poultry meat production increased by 112% to reach 41 million metric tons. Egg production, while failing to match the rate achieved by poultry meat, still grew by a highly impressive 78% to reach 62.6 million tons.
This, along with detailed regional findings, are set out by Professor Hans-Wilhelm Windhorst, International Egg Commission statistical analyst, in his report Recent patterns of egg production and trade – a status report on a regional basis.
Professor Windhorst explains that, while impressive, this expansion of egg production was not consistent over the period. Growth rates were comparatively high during the early- and mid-1990s and again between 2004 and 2006. More recently, however, growth rates in the egg industry have been much lower.
This may be the result of high production costs, in particular the dramatic increase in feed costs. And while the impact of the financial crisis is yet to be felt, one way in which it is bound to affect the egg industry will be in the adoption of enriched cages.
In 1990, China, the USSR and the USA were the three leading egg producing countries, contributing 4% to total global production volume. Three European countries, Germany, France and Spain, ranked as the eighth, ninth, and tenth largest producers, respectively.
Ten years later, China still held the top spot, while the USA has moved into second place, taking over that position with the collapse of the USSR. Along with the disappearance of the USSR, China more than tripled its production volume and more than doubled its contribution to global production.
Lower down the volume rankings, Spain lost its top ten position to be replaced by Turkey. In the Americas, Mexico surpassed Brazil to take over sixth place.
The rise of Asia in egg production is clearly demonstrated by the fact that by 2007, four of the top ten egg producing countries in the world were located in this continent, and that almost 50% of the world's egg production by volume came from China, India and Japan.
In contrast, Europe has been continuously losing ground. In 1990 three European countries could count themselves among the world's largest producers. By 2007, however, France and Germany had lost their top ten positions, while Spain had returned to the ranking with a share of 1.4%.
Asia
Egg production in Asia between 1990 and 2007 increased by a remarkable 177% from 13.8 million tons to 38.2 million tons.
Eastern Asia is the centre of egg production, and the contribution of this sub-region to the overall production volume of Asia increased from 69% in 1990 to 76% in 2007. In spite of absolute growth, all other sub-regions lost market shares.
China, of course, dominated the region. More than two-thirds of Asian production was concentrated in the country in 2007. China, India, Indonesia and Iran contributed some 90% to the absolute production increase of 24.4 million tons. China alone accounted for 19.3 million tons, or 79%.
Between 1990 and 2007, India surpassed Japan to become the second largest producer in the region, while Indonesia increased in importance to rank in fourth place.
In Iran, egg production almost tripled, taking the country to fifth position among Asia's leading egg producers.
But where there are winners, of course, there are also losers. Thailand was unable to maintain its position because of the impact of avian influenza. The same was true for South Korea.
Americas
Egg production in the Americas increased from almost 8 million tons in 1990 to 11.9 million tons in 2007, an increase of 49.6%.
The three NAFTA members, the USA, Canada and Mexico accounted for 66.9 percent of production volume, while the countries of South America contributed 28.8%.
Relative growth rates were highest in South America, at 54.6%, with North America recording 49.2%. However, the three countries of North America contributed exactly two thirds to the absolute growth of 3.9 million tons, while South American countries contributed 1.2 million tons, or 31%.
The USA, in spite of an absolute increase in its production volume -- +1.27 million tons -- lost market share. In 1990, it accounted for 50.5% of egg production in the Americas. By 2007, however, this share had fallen to 44.4%.
In contrast, Mexico, the second largest producer throughout the period, saw its contribution grow from 12.6% to 19.2%, a result of the absolute increase in egg production of 1.3 million tons.
While Canada's output increased over the period, it nevertheless lost ground to competitors falling from fourth to sixth place.
Europe
Between 1992 and 2007, egg production in Europe decreased from 10.2 million tons to 9.9 million tons, a contraction of 2.8%.
Western Europe recorded the highest deceases with two quite different factors primarily influencing this decline. Avian influenza outbreaks resulted in lower per capita consumption for at least some of the time. Preparations for the cage ban, which comes into force in Germany and Austria from 2009 and the rest of Europe from 2012, also had an impact.
The second highest relative increase occurred in Northern European countries at 6.9%. The highest absolute losses occurred in the UK, Estonia, Finland and Denmark. Egg production increased, however, in Latvia and Lithuania.
Performances in Eastern Europe varied widely. In Russia, for example, egg production decreased by 292,000 tons over the period, while in Poland, an increase of 198,000 tons occurred.
The only sub-region to record growth over the period was Southern Europe, but here too individual performances varied greatly. In Italy, due to disease outbreaks, egg production decreased by 41,000 tons. In contrast, Spain recorded remarkable absolute growth of 259,000 tons.
Africa
Between 1990 and 2007, egg production in Africa grew by 46.2% from 1.5 million tons to 2.3 million tons.
The highest absolute growth was found in Western Africa, with 316,000 tons. The highest relative growth, was 81.1% in Southern Africa.
The share of Nigeria and South Africa, which ranked as the number one and two producers, increased from 33.6 percent in 1990 to 41.6% in 2007. This reflects the fact that these two countries contributed 388,000 or 54.4% to the absolute growth of egg production between 1990 and 2007. In all other African countries egg production increased much more slowly.
Oceania
Oceania contributed only 0.4% to global egg production in 2007. Almost 95% of region's volume came from Australia (72.2%) and New Zealand (22.6%). Production in the other sub-regions was of only minor importance.
Between 1990 and 2007, production volume decreased from 243,700 to 232,400 or by 4.6%. This reflects the fact that egg production in Australia fell from 188,000 tons in 1990 to only 166,000 tons in 2007. In New Zealand, however, production volumes increased.