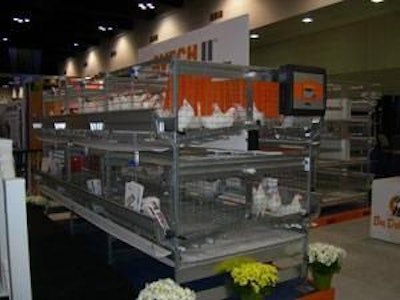 The annual Midwest Poultry Federation Convention incorporates both educational programs and a trade show attended by most of the equipment manufacturers and suppliers of services directed to the egg industry. Exhibits are common to the annual International Poultry Expo in Atlanta that features egg equipment in alternate years. Concentration on the egg industry is more evident at the MFP Show, and a review of products is facilitated by the proximity of booths located in the single hall.
Innovative products, vaccines and additives, which may contribute to enhanced profitability, are reviewed under their respective product categories:
Confined housing systems
The future direction of expansion in the U.S. egg industry is dominated by concerns over the future legal and consumer acceptance of confined (caged) housing. As with the situation demonstrated at the IPE, it is apparent that the status and hence sales of conventional cages are in a state of limbo. Most of the interest among producers, especially independents, was directed at the concept of enrichable cages that can be subsequently converted to enriched colony cages. Essentially enrichable cages are an insurance policy against any future possible state or nationwide ban on all but low-density enriched colony cages.
The situation is clouded by the opposing views of the Humane Society of the United States and the American Humane Association. The former rejects any form of cage confinement. The AHA, in response to the advice of scientific panels, has accepted enriched colony cages which are currently under evaluation in the U.S. following extensive and successful commercial adoption in the EU.
Big Dutchman and Chore-Time as U.S. manufacturers displayed both their enrichable and enriched versions of their cage systems. The European suppliers including Salmet International, FACCO, Tecno, Meller and Farmer Automatic showed versions of their systems which vary in detail but essentially conform to standard dimensions and offer various options relating to egg collection, feeding, location of nests and other enrichments.
Effective and uniform illumination of both enrichable and enriched modules has emerged as a possible restraint to optimal performance. Due to the height of multiple tier installations, even distribution of light and attaining the required 0.5 ft candle in the lowest tiers may be difficult. This has lead to alternative approaches to lighting for configurations exceeding four tiers. Fancom of Holland represented by Can-Neth Imports demonstrated a range of lighting fixtures for either original or retrofit installation. This company offers LED tube lights which can be suspended in aisles in lengths of 5ft. to 10 ft. Light intensity can be varied from 1 to 100% of output using an electronic dimmer module. The problem with suspending tube lights in aisles relates to access and accordingly winchable suspension is required.
An alternative approach offered by Once Innovations is to install LED strip lighting in the interior of modules since this approach has been used extensively by European manufacturers. The technical advantages of LED illuminations relates to low cost of operation. A light intensity equivalent to a 100-Watt incandescent lamp is achieved with power consumption of 8 to 12 Watts. Depending on the design of components, a power factor of unity can be achieved and rated life of LED installations is claimed to exceed 50,000 hours with appropriate housing and protection of the LED light source.
It is possible to design systems with a light spectrum appropriate to the visual perception of chickens which may enhance performance. The problem associated with all LED systems relates to capital cost. At the present time, installations cannot be justified on the basis of saving energy compared to conventional compact fluorescent lamps as used in current cage housing. Light intensity is seldom the restraint in achieving optimal performance when compared to other factors including disease challenge, suboptimal ventilation or improper management. Studies are currently in progress in the U.S. to evaluate the application of LED illumination in comparison to alternatives. Unfortunately most of the work is being conducted on broilers and floor systems but some experimental cage installations are undergoing evaluation. Data should be available by the end of this year to either justify or reject LED lighting based on payback of the cost differential against compact fluorescent lamps.
Mechanization
The need to improve efficiency of throughput in packing plants and to reduce direct and indirect costs for labor has created an opportunity for robotic case packing and palletization. Manufacturers including, Massman Automation designs LLC, pioneers in the egg industry and Smart Motion Robotics, which uses Fanuc robots offered case packers which are capable of operating at speeds far in excess of the output of two parallel packers which usually do not exceed 30 cph. The benefits of robotic case packing extend beyond labor saving. Users of existing installations have recorded improvement in yield through preventing shell damage attributed to manual handling by up to 2%.
Applying savings in labor and improved yield, it is possible to attain payback periods for installations ranging from 1.5 to 2 years assuming a realistic 10 year period for depreciation, interest on capital at 7% of investment, power and maintenance. Moba, the parent company of Moba Diamond Americas demonstrated a full range of robotic installations at the VIV Europe exhibition in mid-2010 and a single model at the IPE in Atlanta. It is understood that robotic modules will be available from both U.S. suppliers of graders and robotics will be commonplace in plants with capacities of over 500 cph over the next three years.
Probiotic and prebiotic feed additives
The advantages of these compounds is gaining recognition with commercial acceptance especially since the advent of the FDA Final Rule on Salmonella. Probiotics, also referred to as Direct Fed Microbials, usually comprise selected strains of Bacillus spp. or Lactobacillus spp. or their combination. Organisms that are regarded as "beneficial" colonize the intestinal tract. These organisms have numerous activities including competitive exclusion of salmonella and other pathogens including suppression of undesirable Gram-positive organisms including Clostridium spp.
Prebiotics are usually derived from fermentation of yeast and comprise whole cultures or extracts of yeast cell components which when added to feed promote the development of a beneficial flora. This has an indirect positive impact on the function of the intestinal tract including enhanced digestibility reflected in improved feed conversion, egg quality and mass.
The probiotics exhibited included offerings from the EU and the U.S. Danisco promoted Enviva Pro incorporating Bacillus subtilis. Calsporin is based on a selected strain C-3102 of Bacillus subtilis isolated in Japan and subjected to a proprietary method of culture and processing to achieve optimal activity. Calsporin is available either as a concentrate containing 50 billion CU/gram of product or a blended preparation with 1.2 billion CFU per gram. Calsporin, which is derived from a non-GMO organism, has been shown to improve shell thickness under controlled conditions. Chr. Hansen market GalliPro Max comprising a suspension of Bacillus licheniformis, which has specific activity against Clostridium spp. in the intestinal tract. Studies have shown that the product incorporated into feed improves egg production, egg mass and hence feed conversion compared to controls evaluated over five months of production. Biomin Poultry Star for water application is offered as a "multi-strain probiotic product containing a source of live viable naturally occurring micro organisms" although the genera are not disclosed. The product is formulated with a prebiotic fructooligosaccharide, which is claimed to promote the proliferation of beneficial bifidobacteria and lactobacilli in the distal intestine.
Diamond V Mills markets XPC derived from fermentation of yeast (Saccharomyces cerevisiae) propagated in selected cereal grain ingredients. The culture is processed to preserve B vitamins and other components that have a beneficial effect on the flora on the digestive tract. Alpharma markets Beta-Mos, a prebiotic incorporating mannanoligosaccharides and beta glucans alone or as a combination product, Proflora, which incorporates strain QST 713 Bacillus subtilis.
Alltech promoted Actigen derived from the cell wall of Saccharomyces cerevisiae. The compound was developed applying nutrigenomic technology and incorporates the benefits of proven Bio-Mos but requires a lower inclusion rate for equivalent efficacy. Canadian Bio-Systems supply Max-Gen Plus, which incorporates fermentation products of Aspergillus oryzae and Bacillus subtilis with both dehydrated brewer's and torula yeast cultures. As with all the prebiotics additives, the yeast derivatives promote a beneficial intestinal flora and support optimal intestinal function.
Enzymes
Danisco recently unveiled Axtra XAP for broilers. This product joins their range of enzyme additives including Avizyme and Phyzyme XP. Axtra incorporates xylanase, amylase and a protease. The combination is formulated for corn-soybean-DDGS diets reflecting current use patterns in the egg industry. Alltech positions Allzyme SSF as an effective single enzyme additive to enhance egg production and feed conversion efficiency in corn-soy diets containing significant quantities of DDGS. The product, which is derived from a traditional solid state fermentation ("Koji") process, has a broad spectrum of activity including a phytase.
Enzymes can be added to diets using a simple over-the-top approach to enhance performance. Reformulating diets supplemented with enzymes to take into account derived improvements in energy value and amino acid availability will generally reduce feed cost. Applying a dummy value for energy, critical amino acids and available phosphorus or degrading the nutrition specifications of individual diets in which the enzyme is to be incorporated are alternative nutritional strategies. Studies recently conducted by the University of Nebraska have demonstrated savings of up to $15 per ton using 2010 ingredient costs, when Allzyme SSF was added to hen diets containing up to 30% DDGS without any degradation in performance.
Vaccines
Recent mergers and acquisitions among multinational pharmaceutical companies have resulted in narrowing of the range of suppliers although most product lines have been retained and are available to prevent disease. Pfizer Poultry Health supply Poulvac Ovoline CVI a Rispens CVI-998 strain type-1 Marek's disease vaccine which is widely used alone or in combination with a type-3 HVT strain vaccine. Intervet Schering-Plough Animal Health supply CVI-988 and HVT alone and in combination as Rismavac and Ris-ma respectively. Marek's disease virus has been modified to serve as a vector for the antigenic components of other pathogens. Intervet Schering-Plough Animal Health market Innovax-ILT which is administered at the hatchery to provide lifelong immunity against both Marek's disease and laryngotracheitis. CEVA- Biomune markets vaccines against IBD using a Marek's disease HVT as a vector which has been modified to stimulate antibody production against IBD (Vectormune HVT IBD). This product is also available with Marek's disease type-2 strain SB-1 as a potentiator. Using a modified pox virus, CEVA- Biomune distributes Vectormune vaccines against LT, LT plus AE in combination and a vectored MG product alone and in combination with AE.
Vaccination against SE is a significant component of all programs incorporating both live attenuated mutant Salmonella Typhimurium (ST) vaccines administered during the early part of the rearing cycle followed by inactivated SE emulsion before transfer to laying houses. There are three manufacturers currently producing ST vaccines. These include AviPro Megan Vac1 and AviPro Megan Egg which has a higher concentration of ST antigen, from Lohmann Animal Health. Other ST vaccines include Poulvac ST from Pfizer Poultry Health and Salmune from CEVA- Biomune.
Inactivated oil emulsion bacterins incorporating strains of SE are available from Lohman Animal Health, CEVA- Biomune and Intervet Schering-Plough.
Technical articles relating to prevention of SE by vaccination, recent trends in SE detection following introduction of the FDA Final Rule and the use of enzymes to reduce the cost of diets containing DDGS will appear in concurrent and future issues of Egg Industry.
Mention of commercial products in this article does not represent an endorsement of effectiveness or superiority with respect to similar licensed or GRAS products which were not noted.