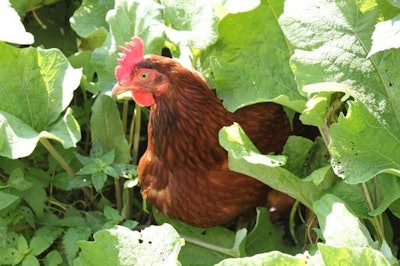 An organic check-off program may not specifically help producers of organic poultry meat and eggs sell more of their products, but its proponents say the proposed program will help the growing industry as a whole.
The Organic Trade Association (OTA), a Washington, D.C.-based trade group promoting the organic industry in the U.S., has filed a petition with the U.S. Department of Agriculture (USDA) seeking to establish a federally-administered check-off program specifically to promote and research organic products. Proponents claim the fund would be used to the benefit of the rapidly growing organic sector. Traditional check-off programs promote only a single commodity rather than an entire industry.
According to figures provided by the OTA, the total value of all USDA-certified organic food products sold in the U.S. was $35.9 billion in 2014. Organically raised poultry and egg sales represented a tiny portion of that sum, however. Nate Lewis, the OTA's senior crop and livestock specialist, said his organization's 2014 survey data indicates organic poultry meat sales were $453 million and organic egg sales were $514 million. In total, the two sectors accounted for only 2.7 percent of the industry's food sales.
Poultry and eggs small stature in the organic food industry raises the question of how much pull poultry and egg producers would have on a check-off organization's board. It also raises the issue of how much poultry and egg producers would pay into the fund.
Lewis said the proposal aims to maximize representation of all organic farmers. The check-off program would be led by a 17-member board composed of producers representing seven geographic areas of the country, handlers, processors, importers and a non-voting member representing the public at large. Assessments, he said, would be assessed at one-tenth of 1 percent on net income greater than $250,000.
In its first year of implementation, the OTA expects the check-off would generate $30 million in assessments. The organization is aiming to split its spending evenly between research, promotion, distribution of information on organic products and discretionary projects.
The program will likely not yield a tremendous amount of results specifically for the chicken industry. However, Lewis and others on the OTA argue any research that leads to greater yields from organic crops and greater consumer interest in organic products will benefit organic chicken farmers.
"As long as they put that USDA organic seal on their product and call it organic they will see a benefit from this. I promise them they have consumers who frown at their price or walk by their product simply because they do not understand what organic represents," Jesse Laflamme, a member of the OTA's board, said in an interview. "So as long as the consumer is educated, many, many more will be willing to pay farmers what it takes to produce organically."
Laflamme, founder of Monroe, New Hampshire, egg farm Pete & Gerry's Organics LLC, previously sat on the American Egg Board. While the Egg Board, which collected $23.4 million in assessments in 2014 according to USDA data, is charged with promoting the egg industry, Laflamme said it's not directly offering support for organic products. On February 29, all organic producers will be exempt from paying check-off assessments. The USDA's December 30, 2015, final rule modified the existing exemption, effective since 2005, which exempted only farmers who were 100 percent organic.
The biggest impediment to growing the nation's organic flock is the shortage of organic-certified crops available to be used as animal feed. Catherine Greene, an agricultural economist with the USDA's Economic Research Service, said factors like the amount of time required to gain certification, farmer's hesitancy to switch to organic, the lack of infrastructure for storage, and movement of organic crops and price uncertainty are contributing to that issue.
Greene, who's been studying organic production for the USDA for more than 20 years, declined to comment on the check-off proposal. She did say more research will help.
"Research and education is key for helping the organic sector. The organic producers have told us in surveys … they need more research on a variety of problems and that they need more certified organic seed, that they have trouble finding input," Greene said in an interview. "Research that helps them provide better outreach on organic farming systems at work is very beneficial to the sector."
The proposal has detractors, however. A group called the No Organic Check-Off Coalition – which includes trade and farming organizations like Cornucopia Institute, Northeast Organic Farming Association Interstate Council and Organic Seed Growers and Trade Association – objects to the check-off on the grounds that the program wouldn't promote any specific commodity, and that it could be used to the gain of large agribusiness corporations rather than independent farmers.
"The Coalition believes that organic farmers would be well served to hold onto their marketing money and invest it into their farming businesses, not commit it to a new federally mandatory organic checkoff program," the organization said in a January 6 press release.
The organic check-off still has a long road ahead of it before being enacted. The application was submitted to the USDA in early 2015 and the OTA is awaiting a final rule from the USDA. After the rule is issued, the creation of the check-off program would be submitted to a referendum vote by all USDA certified organic.