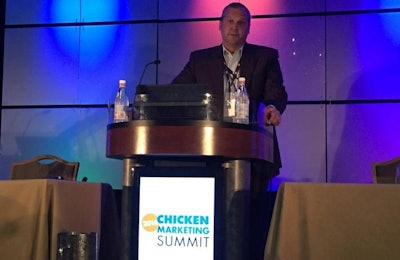 McDonald's supply chain is a key ingredient in consumer trust, which has to be earned one meal at a time, 69 million meals times daily at McDonald's in the U.S. Delivering that result is in the responsibility of Ernie Meier, the quick service restaurant (QSR) chain's director of quality, who spoke to a packed crowd at the Chicken Marketing Summit in Hilton Head Island, South Carolina.
He told listeners on July 11 that McDonald's is well on its way to delivering on its commitment to allow no antibiotics important to human medicine in chicken by 2017. The commitment made in 2014 allows the use of one class of antibiotics, ionophores used to control coccidiosis in poultry flocks.
Meier told poultry supply chain members McDonald's is embracing its leadership role in earning consumer trust and that transparency and verification programs are important elements in fostering consumer trust. He outlined the QSR chain's programs in animal welfare and antibiotics as examples.
McDonald's animal welfare program
McDonald's poultry supply chain has three dedicated suppliers where animal welfare standards and audits have been in place for over a decade.
The QSR chain's animal welfare program is founded on five tenets:
Addresses any area where there is an animal-human interface
Heavily concentrates on job-specific training and testing
Establishes expectations and individual accountability
Verification through first-, second- and third-party audits
Continuous improvement through focus on evaluation of KPIs and developing technology
McDonald's proposed antibiotics requirements include the Process Verified Program (PVP) audited by the USDA Agricultural Marketing Service (AMS). Suppliers are audited by McDonald's annually. Treated flocks are reported and diverted from use by McDonald's.
"We live in a very feedback-rich environment. They tell us not only what they think about our food but about our company and how they think we behave and also how they think we should behave," Meier said.
Collaboration with the supply chain
Meier stressed the collaborative nature of the supply chain.
"When Ray Kroc established the three-legged stool as foundation of our business model over 60 years ago, he created a culture of partnership that has become and continues to be an enduring competitive advantage McDonald's. Our business model of collaboration and alignment is very important. Without this alignment we wouldn't have been able to accomplish the things we have over the past 60 years. And our supplier relationships are built on handshakes. And they are truly interdependent. What drives these relationships is mutual trust and respect in our organization.
"Quality isn't something that is manufactured at the plant and delivered to the restaurant. It's a process that begins at the farm and continues as our food goes to the supplier, through the distribution channels and finally it arrives at the restaurant," he said.
The National Chicken Council's Chicken Marketing Summit, which is being staged by WATT Global Media, brings together a unique cross-section of poultry industry stakeholders to network, share, learn and dialogue together about the opportunities and challenges for chicken being driven by fast-changing consumer trends. This event is a must-attend event for key poultry professionals in the USA and Latin America. Presented by the National Chicken Council and WATT Global Media, the 41st annual Chicken Marketing Summit is being held July 10-12, 2016 at the Omni Hilton Head Oceanfront Resort in Hilton Head, South Carolina. The 2017 Chicken Marketing Summit will be hosted July 16-18, 2017, at the Historic Grove Park Inn in Asheville, North Carolina.