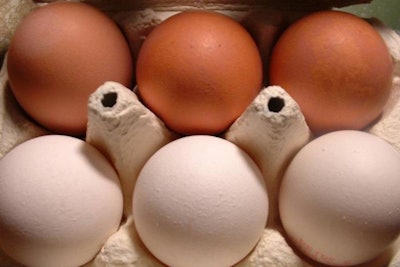 There were plenty of reasons to be cheerful at the International Egg Commission (IEC) Business Conference held in London, U.K., this month.
From reports of a "synchronized global recovery" and rising demand for eggs across developed and developing markets to new IEC initiatives and publications, delegates enjoyed a packed two-day event.
Opening the event, IEC Chairman Tim Lambert said that he had never been more optimistic or energized. Whether in developing or developing markets, people are eating more eggs.
But nothing can be taken for granted, and he advised delegates that central to the continuation of this demand will be public trust. The public must be confident not only of who the egg industry is and its product, but where that product comes from, that the industry treats birds humanely, and that it manages disease and antibiotics well.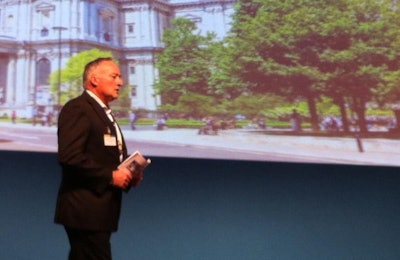 International Egg Commission Chairman Tim Lambert | Photo by Mark Clements
He went on to reference the Egg Nutrition Center, and the Global Initiative for Sustainable Eggs, established to achieve production that is environmentally sound, socially responsible and economically viable, continuing that the egg sector has an obligation to help poor people.
Independent charity, The International Egg Foundation, is an example not only of the industry's to help industry, but it also creates a positive image of the industry both with international organizations and consumers, Lambert noted.
The foundations, which improves nutrition health and education in developing countries, has continued to move into more countries, and by 2022, aims to reach 300,000 chickens in 30 countries, across three continents.
Changing consumers
Returning to the theme of consumer demand, Jessica Moulton, of McKinsey and Company, looked at disruption in the consumer goods market.
The consumer goods industry has been stable, and altered little over the last 70-odd years, but is now undergoing significant change, with four major trends affecting the market: millennials; the rise of small brands; better for you; and, the growth of discounters.
Millennials are almost three times more likely than baby boomers to believe that newer brands are usually better and more innovative than traditional brands. Millennials also tend to have their own views on better for you, one of the fastest growing categories. For this group of conumers, better for you means non-processed, and, for this category, healthy eating is something to be practiced all the time, not in fits and starts.
New publications
Delegates were introduced to the IEC's new Practical Biosecurity Check List, designed to help egg businesses develop and improve their overall level of biosecurity. The practical checklist, focused on avian influenza but applicable to any pathogen, can help producers on a day to day basis.
Alongside this, Avian Influenza Vaccination, Considerations and Essential Components, was also highlighted, which details 12 essential components of a vaccination program for prevention and emergency management.
Another IEC initiatives is its new global database for animal welfare legislation. This worldwide overview includes, for example, details of general animal welfare legislation, layer housing legislation and codes of practice, and cage ban and beak trimming information on a country by country basis. For key markets, retailer information will also be included
OIE layer standards update
Kevin Lovell, IEC scientific advisor, updated attendees on progress being made on the new global standards for layer welfare under development by the World Organisation for Animal Health (OIE).
The first meeting to develop the standards was held in late 2016, and they are unlikely to be approved by 2020, but they will be first global standards for layer welfare and follow on from similar codes for other species.
Outcomes based and not overly prescription, the standards will be a minimum for OIE member countries to follow.