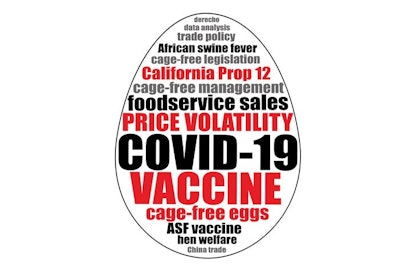 The markets for shell eggs and egg products in the U.S. experienced unprecedented volatility in 2020 as the COVID-19 pandemic caused shutdowns and curtailments of restaurants, stadiums, travel and entertainment venues. Egg Industry sought out forecasts for 2021 from a group of respected economists and analysts to help egg producers plan for what to expect in 2021.
These experienced analysts were asked, "What are the three main issues global animal feed and poultry industry stakeholders should have on their radar 2021?" Paul Aho, Ph.D., economist, Poultry Perspective, said: "What happens to COVID are the three most important things. My crystal ball is cloudy because of COVID-19. We need a vaccine or a cure."
Thomas Elam, Ph.D., economist, FarmEcon LLC, responded saying, "Uncertainly around COVID-19 as it affects business activity, demand and plant worker health. Increased feed costs and potential trade disruptions due to COVID-19 and politics."
Will Sawyer, lead economist, animal protein, CoBank, stressed that questions surrounding the impact that China will have on world grain and protein markets in 2021 should be followed carefully. He asked: "How quickly can China rebuild its hog herd and what does that imply for feed demand growth? Does the U.S. shift its trade policy with its core protein trade partners under a Biden administration? With poultry prices falling in China and other parts of the world, does global poultry enter an oversupply situation as many countries continue to expand production?"
Mark Jordan, executive director, LEAP Market Analytics, said the continuing impact of African swine fever in Asia and Europe should be watched closely for its affects on demand for other animal proteins and grains for animal feeds. He also said the impacts of COVID-19 on the general economy and how that impacts demand for animal protein products as well as the impact of the virus on labor markets will remain in 2021. Finally, he suggested that further development of plant-based alternatives to animal protein products should be monitored as well.
Economic recovery continues in 2021
Increases in consumption of and spending on animal protein products tends to be correlated with increases in overall economic growth, rising wages and increasing disposable income. As a result of the COVID-19-related shutdowns and interruptions that many businesses experienced from March 2020 on, the total gross domestic product (GDP) in the U.S. decreased below the total for 2019. Estimates for the total amount of the decrease of U.S. GDP in 2020 from 2019 levels are in a range of 3.5 to 4%.
Sawyer said: "We (at CoBank) expect U.S. GDP to get back to pre-COVID levels during the fourth quarter of 2021, although with a good deal of uncertainty due to the opposing impacts of the rapid rise in COVID-19 cases this fall and the recently announced progress towards a vaccine."
Elam said he expects U.S. GDP to return to 2019 levels by late 2021 or the first quarter of 2022.
Jordan said: "Given the current trajectory on COVID, I'm feeling less optimistic about economic prospects in 2021, so I'm going to say 2022, hopefully."
Aho was the most pessimistic, he said that he doesn't expect U.S. GDP to return to pre-COVID levels until 2023.
Higher feed costs expected in 2021
There is a consensus among analysts interviewed for this article and the U.S. Department of Agriculture (USDA) that corn and soybean meal prices in the U.S. will be higher in the 2020-21 crop year than in the 2019-20 crop year (Table 1). The November 10 USDA WASDE report forecasts the farm price for corn to be $4 per bushel and soybean meal at $355 per ton for the 2020-21 crop year. If correct, the farm prices for corn and soybean meal would be 12.4% and 18.3% higher, respectively, than in the 2019-20 crop year.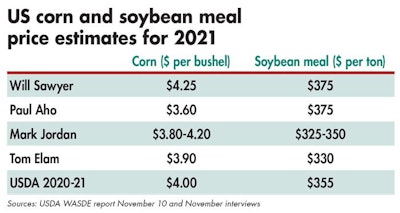 Corn and soybean prices are expected to be more than 10% higher in the 2020-21 crop year.
Jordan said the primary drivers for the bullish movement of corn and soybean prices in the U.S. are the derecho-related crop damage in the Midwest in August 2020, strong export prospects – particularly to China – and high poultry and livestock production numbers in the U.S.
Aho said the increased demand for U.S. corn and soybeans from China is driven primarily by two things. First, China is rebuilding its swine herd as it replaces what had been backyard pigs with pigs raised in modern facilities. The move away from backyard production means more calories are provided to the pigs from compound feed made of corn and soybean meal rather than from table scraps and foraging around the barnyard. The other factor driving the corn and soybean exports from the U.S. to China is the Phase One trade deal between the U.S. and China.
Jordan said: "Taken together, there are enough bullish forces in place to lift corn and soybean meal prices in 2021 to levels that might be considered on the high side when measured against the past five or six years, but there should be enough of a supply buffer – and uncertainty on the demand side – to limit the risk of an explosion similar to what unfolded in 2011-12. The run-up in markets observed then was fueled by a historic drought and collapse in yields/production – creating something of a shock factor – something that's simply not a factor in the present environment."
Using the USDA price estimates for corn and soybean meal for 2021, reported USDA data for 2020 and the Egg Industry Center's simple layer ration formulation (67% corn, 22% soybean meal, 8% limestone and 3% other ingredients), layer rations would be expected to cost about $16 per ton more in 2021 than they did in 2020.
Egg production higher and prices lower in 2021
The total U.S. table egg layer flock was 3.9% smaller on October 1, 2020 than it was on the same date in 2019, according to October 22, 2020 USDA Chicken & Egg Survey. Despite this reduction in the number of layers, egg prices were still lower in fall 2020 than in the same period in 2019.
Egg production is forecast to be 2.5% lower in the first quarter of 2021 than it was in the first quarter of 2020. However, egg production is forecast to be higher in the rest 2021 than in the corresponding quarters of 2020. The USDA projects total U.S. table egg production to increase by 1.6% in 2021 (Table 2).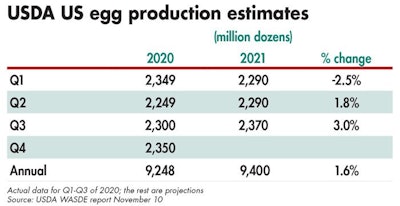 Egg production is forecast to increase in 2021 over 2020 despite lower production in the first quarter.
The USDA has forecast wholesale egg prices to be $0.07 per dozen lower in 2021 than the agency's estimate for the 2020 average egg price of $1.17 per dozen (Table 3).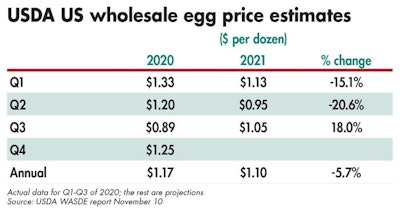 Wholesale shell egg prices are forecast to be lower in the first half of 2021 than they were in the same period in 2020.
When asked if 2021 would be a good year for U.S. egg producers, Jordon said: "I'm going to say 2021 winds up an OK year for egg producers – those primarily selling shell eggs in cartons – and a good to potentially very good year for processors – those selling value-added egg products. It should be noted that egg processors have endured very challenging conditions in 2020 and reduced supplies abruptly and sharply in response. Egg product markets increasingly appear as if they might explode next year in response to these reductions, sending processing margins through the roof."
The reduction in travel and hotel stays caused by the pandemic had a huge impact on egg products sales. A much higher percentage of non-retail egg sales, much of which are egg products, go into hotels and institutions than is the case for red meats and chicken, which are more affected by purchases in restaurants and bars.