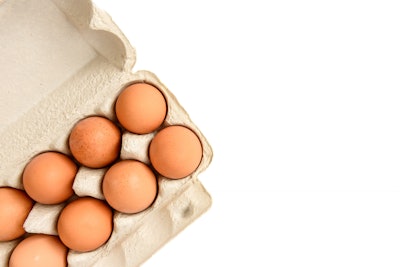 Natallia - stock.adobe.com
On December 20, 2021, the Commonwealth of Massachusetts agreed to changes in a conference committee report (S 2603) that changes sections of the voter approved 2016 Question 3 law (also known as the Massachusetts Minimum Size requirements for Farm Animal Containment proposal) just two weeks before it takes effect in January 2022. The amendments are anticipated to prevent egg and pork shortages.
Without these amendments, cage-free facilities that only allow 1 square foot of space would not have been able to supply to Massachusetts, meaning that egg shortages were expected.
While the House and Senate previously agreed to the layer hen amendments to better align the law with industry practices, they could not agree on a timeline to ban the sale of pork products produced under confinement outside of the 2016 law until now. "I want the pork industry to know in no uncertain terms that there will be no further extensions for them in Massachusetts," stated Senator Jason Lewis on Monday.
The amendments
According to GBH News, the amendments allow farmers to house hens with one square foot of floor space per bird if they are produced in "multi-tiered aviaries, partially-slatted cage-free housing systems or any other cage-free housing system that provides hens with unfettered access to vertical space."
This Is not the first attempt to amend the 2016 Question 3 law.
On June 24, 2021, the Massachusetts Senate passed a bill to change the law to reduce the minimum space allotted in cage-free housing for each hen to 1 square foot of usable space, versus the 1.5 square feet voted for. On October 5, 2021, The committee on Ways and Means in the House of Representatives presented a set of amendments to the 2016 Question 3 law that helped bring uniformity to cage-free production in the state and further prevent a 2022 shortage.
"The bill requires enrichments to be included in these vertical aviaries that allow hens to exhibit natural behaviors, including things such as perches, scratch areas, nest boxes and dust-bathing areas," said Lewis. "In other words, this standard is considered as humane or even more humane than the standard included in the 2016 ballot question."
During the negotiation, Carolyn Dykema, a House representative on the compromise, explained that failure to implement these new amendments would have created endangered the availability of essential foods.
"Egg producers have told us that egg prices could skyrocket," Dykema stated. "Local companies were being told that only 10% of their pork needs would be met, and available products would likely carry premium price tags. And further food supply disruptions would disproportionately burden those least able to withstand those burdens."