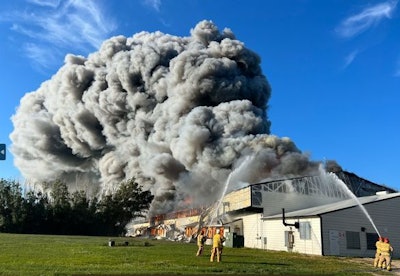 City of Storm Lake | Facebook
A fire broke out at a Rembrandt Enterprises pullet barn on a farm north of Rembrandt, Iowa, on July 27.
According to a press release from the Sioux Rapids Fire Department (SRFD), the fire department was called to the scene at 6:18 p.m. on that day, and upon arrival found the barn to be fully engulfed.
Additional units from Albert City, Alta, Aurelia, Buena Vista, Cherokee, Laurens, Newell, Peterson, Pocahontas, Rembrandt, Royal, Storm Lake and Spencer were responded to assist with controlling the fire, which was brought under control around 9:45 p.m.
SRFD stated that the cause of the fire is being investigated.
Rembrandt Enterprises Human Resources Director Kathryn Diercks told the Storm Lake Pilot that the affected pullet barn was one of five, and that the fire occurred away from the company's "main operations," which remain unaffected.
"We want to express our gratitude to the swift response of the first responders who arrived promptly at the scene," Diercks said. "Their immediate actions helped prevent the fire from spreading further and minimized its impact. The community stepped up to support the first responders who were fighting this fire in the summer heat."
In other recent news concerning Rembrandt Enterprises, the company reached a settlement with surviving family members of Humberto Jesus Lopez, a subcontractor employee who was killed in February 2020 when a caging system in one of Rembrandt's Iowa barns collapsed on him.
It was also recently revealed that investment firm AGR Partners invested in the egg company in 2022.
Rembrandt Enterprises, according to information from the WATTPoultry.com Top Poultry Companies Database, has a flock of 1.5 million hens. It is tied with Berne Hi-Way Hatchery, Dutt & Wagner and Lathem Farms as the 43rd largest egg producer in the United States.