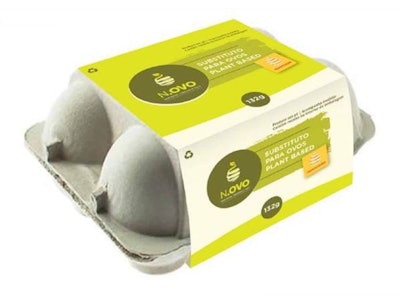 Growth in the "alternative proteins" segment continues, and another major animal protein company has moved into the sector.
Mantiqueira, the largest egg producer in South America, debuted its pea starch and plant protein egg substitute N.Ovo at this year's Super Rio Expofood trade show.
While there is no shortage of egg substitutes on the market, many featuring eggs on their labels, N.Ovo -- a play on words with "novo" meaning new, and "ovo" meaning egg -- is sold in a traditional egg carton, which upon opening contains a foil pouch.
I will leave you to decide whether its packaging may cause confusion among consumers, or how well it might be accepted where terms traditionally applied to meat and dairy products can only be used on products of animal origin, but the product is well aligned with a growing consumer trend.
Matiqueira, notes that N.Ovo has been developed to be a one-to-one swap for eggs used in cakes, bread and baking and is aimed at consumers with allergies or who need to restrict their egg intake. The company has a replacement "everyday egg," to make omelets and scrambled eggs, under testing.
N.Ovo will be launched in in large supermarket chains, grocery and natural product stores and will soon be available via the company's home delivery service.
Commenting on the launch, company innovation manager Amanda Pinto said: "I was born and raised in the animal protein industry and could see from the inside out that there are much more sustainable ways to feed the world."
Mantiqueira worked with the U.S. nonprofit organization the Good Food Institute (GFI) to develop the product. According to a GFI survey, of 900 Brazilians questioned, 29 percent responded that they wanted to reduce consumption of animal protein, while 76 percent reported a positive perception of those reducing consumption.
However, the sustainability issue noted by Pinto may not be the primary motivator for all consumers considering altering their diets.
US attitudes
Separately, DuPont Nutrition and Health has published details of consumer attitudes toward plant-based meat in the U.S.
The company points to a 2017 Health Focus International Study in which 54 percent of respondents said that including more plants in their diets made them feel healthier.
A 2018 Markets and Markets Meat Alternatives survey found that 96 percent of respondents felt that health was either an important or very important motivator, and that social motivators, such as sustainability, while important, were secondary when compared with health.
DuPont Nutrition and Health Marketing Manager Mark Cornthwaite noted that people are motivated to include more plant-based foods in their diets because they believe that doing so will enhance their overall wellness, provide specific health benefits and help the environment, continuing that the sector contained "lots of opportunity for growth."
Despite criticisms that some recent reports advocating adopting vegetarian diets are inaccurate, misinformed and lack supporting evidence, with claims over health benefits and sustainability often questioned, more companies traditionally involved in animal protein production are entering the alternatives sector.
According to Research and Markets, the market is forecast to be worth US$10.9 billion by 2022.