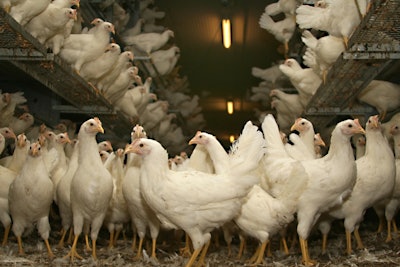 In 2016, Egg Industry Insight completed a series on three types of cage-free housing (floor systems, aviaries, and combination systems) by surveying cage-free housing system manufacturers around the world . However, over the past five years, cage-free systems has shifted to predominately aviary styles and away from convertible/combi systems.
Egg Industry Insight completed another survey with five equipment manufacturers to find out how they have adapted to keep up with the cage-free demand. Each company was asked to describe updates they have made to their cage-free systems.
Big Dutchman's upgrades have focused on producing larger units.
According to Bernd Heidkamp, System Manager Alternative Layer Management, Big Dutchman has increased the overall size of their units by adding up to four levels (floors) in houses with its cage-free systems, including multiple manure belts. "A house can now consist of more than one room, and the rooms can be beside each other or on top of each other," described Heidkamp. "Additionally, intermediate flooring (flooring on any level) can now be built in wood or hygienic plastic that is easier to clean. Soon, we will be able to offer any of our systems in these versions."
Currently, one of Big Dutchman's most popular systems is the Natura Step System. The multi-tiered aviary contains a nesting area, specific areas for resting, feeding and perching, and is open in design with floor access for foraging and scratching. Additionally, the design allows for flow in movement between tiers.
Salmet's upgrades have kept bird density in mind due to local regulations.
"In Salmet's new aviaries, we have introduced a narrower roof-slat (slatted flooring on the top-level) so birds can more easily reach the top levels for perching. We have introduced extra slatted areas to provide more living space, meaning we can have greater bird numbers per house," explained Mari van Gruijthuijsen, Director Sales and Marketing. The top level of some of Salmet's aviary structures are narrower so that birds will be encouraged to move upwards. But to keep bird density in mind, the egg belt in these systems was moved to the outside of the nesting area to provide more living space.
"Also, we have introduced a new automatic layer nest with a covered egg belt. This covered egg belt area also counts as living space, so this leads to higher bird numbers. Salmet's Pedigrow system can be equipped with taller legs, so the additional floor level also counts as living space" However, the same floor area can be closed off (automatically) for a certain time period in the initial stages of the pullet rearing.
Salmet's All-In-One System is the most popular due to its straightforward design with nesting, feed, water, light, and perches on each row of system. Additionally, it contains manure removal belts with stainless steel scrapers installed under each level of slatted floor for a quick removal.
Texha's updates have focused on effective litter collection and hygienic details, as well as ventilation efficiency.
"Texha's multi-level slatted floor systems utilize special flooring that is made of either galvanized steel mesh or special plastic mesh. The birds walk on the clean floor, while the litter and the dust fall directly on the litter removal belt. A polypropylene belt runs underneath the floor and is used to collect the litter and the dust," stated Inna Volkova, Head of Marketing. The debris is taken by the conveyor system outside the layer house for further disposal, preventing litter and gas build-up inside the house.
"Powerful ventilation system exhausts the waste air and ensures the constant inflow of fresh air saturated with oxygen. At the same time, the unwanted heat is removed from the premises. The air chemical composition, humidity and temperature sensors are installed at each level," Volkova explained. "No litter bedding means costs savings on procurement and disposal. Additionally, there is less pathogenic bacteria and parasite development, as well as less ammonia burns on poultry paws and skin."
Texha's EGGoist system is the company's most popular system due to its ability to drive cost-savings, according to Volkova. The system contains two to four aviary enclosures can be constructed in small buildings, allowing utilization of small spaces. Additionally, it includes slatted or plastic floors to prevent from having to clean or replace bedding.
Jansen's upgrades were developed to improve pest control aspects, while keeping genetic potential in mind.
"Jansen's focus has shifted more to 'How do I get the genetic potential out of the chickens with my system.' There is a trend that layers stay longer in the houses, meaning more should be demanded from the system," stated Ariën Verbeek, Poultry Specialist.
Developments Jansen has made include modified (more open) housing, further preventing red mites by taking away their hiding places. "A system can contribute to pest activity by providing hiding places in which they can reproduce more easily inside the systems. And this problem is mainly prevented by the design of the open profiles. The open profiles also make it easier to clean the systems between flocks," explained Verbeek. "Additionally, the company has improved tools to enable 'safe air traffic for the layers' between the systems."
Currently, Jansen's most popular system is the Comfort 2.0 system. According to Verbeek, the system has flexibility and allows for adaptation. This system is designed to give birds their genetic potential, while also featuring integrated ventilation tubes to improve the manure drying process.
Hellman's updates focused on improving animal welfare aspects throughout the housing structure.
"We made a lot of small changes concerning animal welfare due to the potential of injury if housing is not built properly," stated Christian Evers, Aviary Specialist. "We have reduced sharp edges, incorporating oval perches (to improve distribution of pressure on the sternum while birds are resting) and offer longer ladders to make it easier for birds to travel between the floors, nesting, feeding and drinking areas."
According to Evers, the Aviary Pro 11 is Hellman's most popular system. The system can be installed in a wide variety of building sizes, as it is available in various widths, heights and number of tiers. Additionally, it is a good option for producers who are looking for a less demanding investment option.