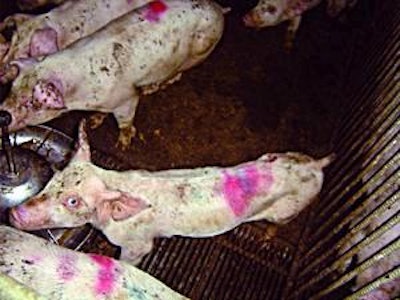 Outbreaks of disease in the world's growing livestock sector present significant potential costs – at the farm level through losses in production and productivity, and at the national level by disruption to markets and international trade, warns Professor David Leaver, former head of the Royal Agricultural College in the UK. Leaver is currently a member of the UK government's Chief Scientific Adviser's Food Research Partnership.
"Climate change is likely to increase the spread of vector-borne diseases and parasites with higher temperatures and variable precipitation resulting in new diseases and/or disease occurrences in new locations," he said, speaking at a London conference organized by the National Office of Animal Health earlier this year.
Leaver pointed out that animal zoonoses and food-borne diseases also presented a direct risk to the human population. "Control of animal disease will therefore be a central component of future development strategies," he said.
With pig farmers and veterinarians around the world on constant alert for new pig diseases, an increasing number of health experts are emphasizing biosecurity to ensure herds build up and maintain a high level of health. In order to achieve this, many producers in the UK and other parts of the European Union are focusing on training to help them improve pig health on their farms and in their regions.
Localized efforts
The British Pig Executive, for example, is encouraging UK pig farmers to form mini health schemes with other producers in their region to help them share ideas and to work together to improve bio-security across their particular neighborhoods. The hope is that they will then link up to form a pig health scheme that stretches across the whole country.
Producers in England's East Midlands area, around Nottingham, have recently launched their group – the East Midlands Pig Health Scheme – and they have decided to focus on training to help improve pig health.
The EMPH is organizing a series of events and workshops concentrating on teaching producers and workers the latest in cleaning and disinfection, bio-security techniques and interpreting carcase health data. These teaching events will include pig producers, veterinarians and other supply chain partners.
The region covered by the EMPH contains about 37,000 sows and some 150,000 finishing pigs. Since some producers cross region boundaries, both geographically and commercially, they will be working closely with other swine-health groups in the Yorkshire and Humberside region as well as with the eastern section of the country. There, producers have decided to concentrate on working with their veterinarians to identify the steps needed to improve pig health and biosecurity.
All the groups are working together with the belief that early diagnosis and treatment of infections on farms can reduce the impact these illnesses have on pig performance and also help prevent an uncontrolled spread of disease through the UK pig population.
Concern about new disease strains
While veterinary surgeon and BPEX health adviser Derek Armstrong believes pig health is "reasonably stable" in the UK at present, he is concerned about the dangers posed by new strains of PRRS in the US and in the Far East, as well as reports of MRSA in the Netherlands and in Germany. He is also concerned about new diseases in Eastern Europe.
"We have to be very careful that we do not import these diseases into the UK, and we are setting up specific protocols to ensure that pigs that come into this country from countries such as the Netherlands and Belgium do not carry these strains," he said.
Asked what he felt about pig health campaigns in other European countries, Armstrong said there was a great deal of pressure on producers in Denmark, the Netherlands and Germany to concentrate on countering the threat against new diseases, as well as the new strains of MRSA and PRRS.
He was quietly confident that the cooperation between farmers, veterinarians and researchers across the EU would allow the industry to pick up signs of new strains of disease before they caused too much trouble.
"Stronger links are being developed between the practical and academic levels of research and this is being encouraged by the new European Association of Porcine Health Management, which will hold a major symposium in Finland in May this year."
Symposiums
"The association, or college, has arranged to hold a similar symposium in Belgium in 2012 and I am hoping the annual event will be held in the UK in 2013," Armstrong said.
One of the items on the agenda at this year's meeting is likely to be an update on the campaign against porcine circovirus type 2, which is blamed for one of the greatest health problems affecting the industry for many years.
PCV2 is involved in a number of porcine circovirus diseases, including the notorious post-weaning multi-systemic wasting syndrome, which has wreaked havoc among producers across Europe and other parts of the world, as well as porcine dermatitis and nephropathy syndrome, porcine respiratory disease complex and proliferating and necrotising pneumonia.