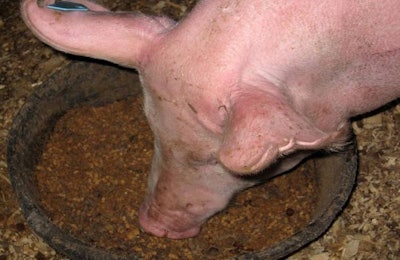 Growth in Chinese pig meat production is underpinning the country's feed companies, according to a report in China Daily.
It is the nation's large and growing appetite for pork that has created two billionaires in the sector but it has also come at a cost to many small family businesses. From approximately 10,000 feed mills in 2010, the number now is around 6,000, according to a senior official at the agriculture ministry. Ministry figures put Chinese animal feed production last year at 200 million metric tons (mmt), which is 23 percent more that in 2010 and around one-fifth of global output.
Those companies still in business are doing well.
"It is impossible to lose money in the animal feed industry in China right now, unless you have an internal management problem," said agriculture analyst at Guotai Junan Securities Co., Wang Qian. "Fewer than 20 percent of China's livestock farming companies make their own feed and are self-sufficient, while 80 to 90 percent of them have to buy feed from feed companies."
Among those to have benefited from these market developments are Bao Hongxing, CEO of Twins Group Co. in Jiangxi province, China's fifth-largest animal feed producer, and Chen Yuxin, founder of Sichuan Tequ Investment Co, Sichuan province's biggest animal feed company. Their personal fortunes are estimated at $1.8 billion and $1 billion, respectively.
After a decade of growth at an average compounded annual growth rate of 50 percent, Twins Group achieved revenue of CNY38.6 billion (US$5.94 billion), Bao's assistant said.
In 2001, Bao invested CNY500,000 for a 17 percent stake in Golden Apple Group, becoming its biggest shareholder. Changing its name to Twins Group in 2007, the company has become China's largest producer of pig feed, according to the group's web site. Other members of Bao's family own a further 29 percent of the company.
Chen is the owner of West Hope Group, a conglomerate with business interests in tourism, education and investments as well as animal feed. In a partnership with Pu Hua Agriculture and Technology, West Hope's animal feed business was split off in 2005 to form Sichuan Tequ Investment Co. West Hope maintained a 55 percent share in the feed business, which is reported to have had a revenue of CNY13 billion in 2015, which equates to around 70 percent of the total for the group. Chen also holds 1 percent of New Hope Liuhe Co., an animal feed and agricultural products company owned by his younger brother, Liu Yonghao.
According to China Daily, Bao and Chen benefited from Chinese policy decisions in 1985, when the government liberalized the domestic grain sector and prioritized livestock production.
Recent estimates by Feed International put New Hope Group at the top of the league table of Chinese animal feed companies with an annual production of 18.7 mmt. Twins Group (also known as Shuangbaotai Group) is at No. 4 (6.6 mmt) and West Hope Group/Sichuan Tequ Investment Co at No. 10 (4.4 mmt).