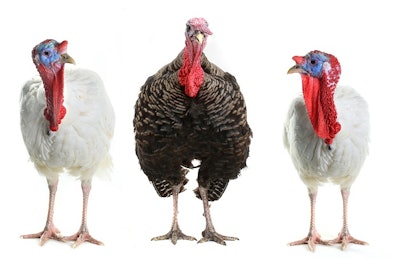 fotomaster - stock.adobe.com
U.S. turkey production declined for a fifth-straight year as highly pathogenic avian influenza (HPAI) contributed to continuing contraction in 2022.
According to WATT Global Media's annual survey of U.S. poultry companies, the top U.S. turkey companies produced 6.336 billion pounds of live turkey in 2022. That's 488 million pounds, or 7.1%, less than the 6.824 billion pounds of turkey processed in 2021. It processed 7.171 billion pounds in 2020 and 7.263 billion in 2019.
The top 22 turkey producers experienced a difficult year marked by more than 9 million marketable birds lost to the on-going outbreak of HPAI. Christine McCracken, executive director for animal protein at Rabobank's RaboResearch Food & Agribusiness sector, said the losses added a significant amount of risk and disruption into the industry, but also drove spot sales to record highs.
Avian influenza
For the first time since 2015, HPAI hit commercial birds in North America causing mass disruption to supplies and prices. Dr. Thomas Elam, president of FarmEcon LLC, said the H5N1 strain of the virus is responsible for what has become the worst outbreak in U.S. history.
According to the United States Department of Agriculture (USDA) Animal and Plant Health Inspection Service (APHIS), most of the losses were in layer flocks. However, more than 500,000 breeder hens and over 9.4 million birds were culled due to the virus.
Elam said this total loss represents 4.6% of 2022 slaughter. Without HPAI, turkey production would have actually increased in 2022 instead of falling by 6%,
according to the USDA's reckoning
.
Significant outbreaks affected turkey operations in Iowa, Minnesota, South Dakota, Utah, California, North Dakota, Wisconsin and Michigan.
According to survey responses and industry research, five turkey companies saw production fall by more than 10% from 2021 to 2022:
Dakota Provisions (38%)
Jennie-O Turkey Store (23%)
Turkey Valley Farms (22%)
Pitman Family Farms (18%)
Jaindl Turkey Sales Inc. (10%)
Price impacts
Powered by bird losses and broader economic forces, the price of turkey rose exponentially during the year. Domestic market breast meat and whole bird prices reached record highs during the year.
By the end of October 2022, tom turkey, boneless skinless breast meat prices reached nearly $7 per pound. That's nearly twice the price paid at the beginning of the year, less than $4 per pound. In early 2021, it sold for less than $2 per pound. It's also higher than the highest price paid, about $5.80 per pound, during the height of the 2014-15 HPAI outbreak.
Whole frozen hens and toms were $1.30 a pound in January 2022 and hit a record of about $1.87 at the end of the year, Elam said.
Along with these challenges, the turkey industry also faced continued cost pressure due to tight global feed supplies and low availability of labor.
Looking ahead to 2023
McCracken predicted the market for turkey will remain strong. Rabobank's outlook for the protein calls for gradual improvement in supply along with steady demand. Nevertheless, HPAI remains a threat and is likely to drive continued market volatility.
Elam said the picture is uncertain. He said the USDA is calling for a significant, 8% increase in turkey production in 2023. Eradication, or control, of HPAI will determine how much the industry could potentially grow.
"The breed flock losses will make a 2023 production recovery more difficult, even if the HPAI effects vanish or are reduced," Elam said.
Butterball back in first place
Due to reported HPAI losses and a planned reorganization of the company's supply chain, Butterball became the top turkey company in WATT PoultryUSA's rankings in 2023 after Jennie-O Turkey Store took the top spot briefly in 2023.
Butterball and Jennie-O spent the past two decades trading places on the top. From 1991 to 1997, Butterball was ranked number one. In 1999, Jennie-O took the lead again until 2006. In 2006, Butterball was purchased by Smithfield and merged with Carolina Turkeys to become the largest processor until 2021.
Butterball and Jennie-O in 2022
In February 2022, Seaboard Corp. reported a loss on its turkey business for its fiscal 2021. Overall, it lost $20 million on its investment in Butterball in 2021.
In March 2022, Hormel Foods Corp. CEO Jim Snee said in a conference call that organizational changes for Jennie-O were producing promising results. At the end of 2021, the company began a reorganization of its Jennie-O business which included closing a turkey plant in Willmar, Minnesota. It aims to integrate Jennie-O into the greater Hormel corporation and put more focus on consumer products and less on commodities. The reorganization should save the company about $20 to $30 million annually, he said.
In April 2022, Seaboard exercised warrants for nominal consideration to acquire an additional 5% of the issued and outstanding stock units in Butterball to increase its ownership stake to 52.5%.
In May 2022, Seaboard reported its investment in Butterball earned a net income of $30 million during its first quarter. In August 2022, Seaboard reported Butterball earned another, consecutive net income of $21 million. In November 2022, it reported another profitable quarter, this time $33 million.
In June 2022, Snee said HPAI significantly changed the outlook for 2022. After an encouraging first quarter, the company expected "large supply gaps" due to flock losses. In the same call, Hormel CFO Jacinth Smiley said the short supply will likely translate to a 30% decline in Jennie-O sales volume in the second half of 2022.
In September 2022, Snee said the continued impact of the disease will likely affect its turkey supply chain at least until the end of January 2023. Smiley said in the same call that HPAI losses would likely lead to a 20% decrease in production in the third quarter and 30% reduction in the fourth quarter.
In November 2022, Butterball said only 1% of its product was impacted by HPAI due to its elevated biosecurity measures.
In November 2022, Snee said the outbreak continued to hurt Jennie-O but its effects were less severe in the fall than in the spring. At the time, he said he expected turkey production to be below normal levels for at least the first half of its fiscal 2023.
How states ranked in HPAI bird losses at end of 2022 WATTAgNet.com/articles/46472