Our exclusive listing of the top Latin American poultry companies is here.
The same problems that impacted the poultry industry worldwide in 2021, such as high feed costs, the slowdown in the Chinese economy due to the Covid-19 pandemic, high inflation rates and the war in the Ukraine, have impacted 2022, with an added issue: avian flu outbreaks not only in Latin America's export market but additionally in 10 of the region's nations.
In 2021 the situation appeared to be at best stagnant, and perhaps even negative. Very large companies reported increases, but medium and small-sized companies remained sluggish. Variations were seen in both the broiler and layer sectors.
In contrast to our last report, in which we had to repeat some numbers from 2020 for a few companies, this year the responses have been more convincing.
The two largest companies in the region, the Brazilian giants BRF and JBS, are always rather quiet in reporting broiler numbers. It is reasonable to think that such large operations are difficult to reconcile. However, both JBS (Seara) and BRF reported larger production figures compared to 2021.
In general, broiler production grew in most companies in Argentina, Brazil, Chile, Colombia, Mexico, Peru and Venezuela. However, in some cases, chick placement was affected by the impact of avian flu on heavy breeder flocks. Other countries, such as Uruguay or Panama, stayed with the same numbers, in line with their small and stable human populations.
An interesting development is the consolidation observed in the two multinational conglomerates that call Central America home: CMI – Corporación Multi Inversiones and Cargill Proteína Latinoamérica. Their operations span several nations and Cargill's Colombian operation, for example, is already the second largest in that country, the third in the Latin American poultry industry.
A couple of companies are no longer in business: one in Argentina that merged with another company, and one in Bolivia that has gone out of business.
Where egg production is concerned, growth was observed in very large companies in Mexico and Brazil but, in general, most companies maintained the same number of layers in production. For 2023, however, avian flu is expected to have a severe impact on flock numbers.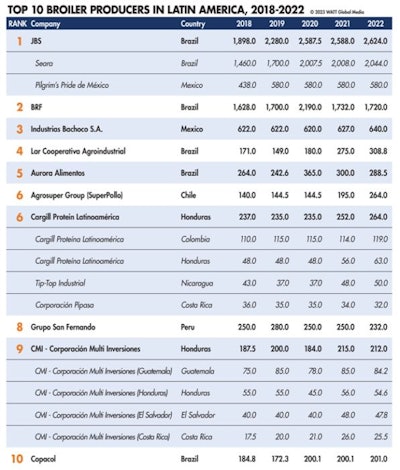 Broiler top 10
The first five companies in the top 10 broiler companies' ranking are dominated by four Brazilian companies – JBS (Seara), BRF, Lar Cooperativa and Aurora, and Mexico's, Bachoco and JBS (Pilgrim's Pride).
The first three positions have been held by JBS, BRF and Bachoco for several years. JBS (Seara) in Brazil has reported a 1.8% increase in production. Until BRF makes its results public, we cannot report an accurate change over 2021.
Bachoco, a company that is ever-more focused on being multi-protein, reported a 2.1% in comparison to 2021.
These five leading companies, together, process 5.6 billion broilers - accounting for 84% of all the broilers processed by the top 10 Latin American companies. The remaining five companies produce 1.1 billion birds across 10 countries.
In 2021, the big surprise in the top 10 ranking was Brazil's Lar Cooperativa Agroindustrial which jumped to fifth position from 10th and now stands at number four.
Cargill Proteína Latinoamérica, the U.S. subsidiary based in Honduras, is ranked 6th, and it saw its output grow by 4.8%.
Peru's San Fernando continues at 7th position, while the Guatemalan multinational CMI - Corporación Multi Inversiones is still in 8th position with a reported 16.8% increase in head slaughtered compared to 2021. Brazil's Copacol, ranked 9th, reported a meager 0.5% increase, while the Argentinian Grupo Tres Arroyos – in 10th place – reported a 16.5% increase in production.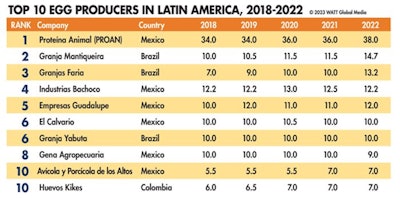 Layer top 10
The region's top 10 egg-producing companies continue to be focused solely on their home markets and do not have foreign subsidiaries.
These 10 leading companies currently have around 128.3 million laying hens in production, a 3% increase compared to last year. However, they account for a quarter of the total Latin American layer flock.
The list of top 10 egg companies continues to be dominated by Mexico – home to six of the 10 leading companies. Brazil has three companies, and Colombia, one. With 38 million layers in production, Mexico's Proan is the region's largest egg producer and the second largest egg producer in the world. The company reported 5.6% growth in its layer flock over the previous year.
After several years of almost no changes in position, the ranking of the top 10 egg producing companies saw movement over the last year.
Bachoco, reporting only an insignificant decrease in layer flock, nevertheless lost the second spot and fell to fourth place. This decrease may be due to the company's growing focus on chicken and other meat proteins, along with domestic factors.
Second place is now taken by the Brazilian Granja Mantiqueira, reporting a 27.8% increase in its layer population comparing 2022 and 2021.Third place has been taken by another Brazilian company, Granja Faria, reporting a 32% increase.
This means that the top three egg producers are now one Mexican company – Proan – and two Brazilians – Granja Mantiqueira and Granja Faria – accounting for over 51.4% vs. 48% the previous year of the top ten's combined layer flock, with 65.9 million laying hens.
In 2021, seven companies had a layer population in excess of 10 million birds. This has now fallen to six companies. We cannot end without mentioning that Mexican Empresas Guadalupe reported a 27.3% decrease in its layer flock. Previously holding fourth place, the company has now fallen to eighth.
To learn more about the world's leading poultry and egg producers, visit: