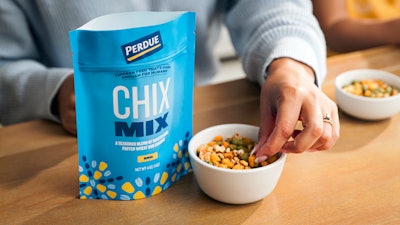 Perdue
A lucky few will get to try Chix Mix, a snack food for people inspired by the all-vegetarian diets and no antibiotics ever (NAE) that Perdue chickens receive.
"Over the last 20 years, Perdue has worked diligently to achieve no antibiotics ever raised chickens," said Dr. Bruce Stewart-Brown, senior vice president of technical services and innovation at Perdue Farms.
"To be successful, we improved our approach to animal care and the way we feed our chickens. We removed animal by-products and antibiotics and put in products that promote good gut health such as oregano and thyme."
A NAE growing program prohibits the use of antibiotics as well as ionophores or coccidiostats, used to treat coccidiosis. Approximately half of U.S. poultry farms raise poultry under a NAE growing system.
Perdue Farms became the first major company to eliminate the use of human antibiotics in 2014, according to the press release. Perdue feed mills undergo regular auditing "to ensure that feed does not include antibiotics," the company website states.
Making chicken feed for people
Chix Mix features corn, wheat and edamame – all found in the company's chicken feed – plus a dash of BBQ spices.
"Perdue is proud to highlight our gold-standard animal care practices and all-natural bird feed in this one-of-a-kind, chicken-feed-inspired snack," said David Zucker, executive vice president of marketing at Perdue Farms.
Consumers can order a free bag of Chix Mix starting at 12 p.m. EST on Friday, November 17 at perduechixmix.com.
In case you missed it
In other chicken consumer news: