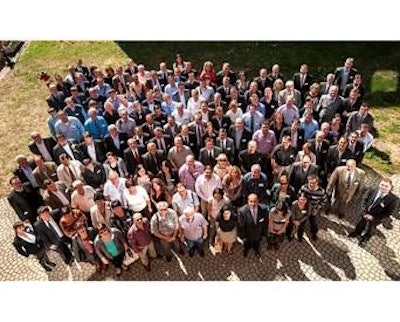 The latest Aviagen Central and Eastern European Seminar for Ross Parent Stock (PS) customers took place recently in Budapest.
A bi-annual event, the CEE Seminar has always proven popular, and this September's event was no different with 160 attendees from 20 countries present. Several speakers addressed the event including Richard Bailey, Aviagen's poultry health scientist specializing in gut health.
Other speakers included Neil Clark, Aviagen's Regional Technical Service Manager for Eastern Europe and the CIS region, who talked about the tools available to the technical teams and the importance of customer support in getting the best results. Otto Van Tuijl, Technical Director at Aviagen EPI, also covered some of the developments Aviagen is making in terms of R&D with new products.
Balázs Takács, General Manager Aviagen KFT, said: "This event is important to us because although the flow of information has become much faster in the world, meeting in person and sharing our thoughts and experiences are simply irreplaceable.
"At previous conferences, aside from the discussions of the presentations, new business relations/friendships were established; and we are confident of similar results at this event as well. The market is continually developing, which makes it all the more important for all of us to stay up to date concerning new technologies, sales trends and consumer habits."
Pavel Víšek who attended from XAVERgen, Czech Republic, said: "The presentations were extremely interesting and there was something in there for everyone. They gave us a wider view of the whole poultry industry as well as key issues such as explaining changes to nutrient requirements.
"It was also a great opportunity to meet key Aviagen personnel and network with other delegates too, where we could share experience and learn something from each other."