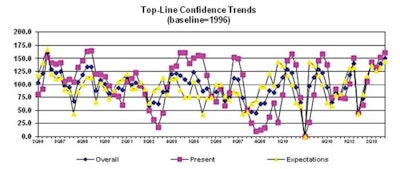 The Poultry Confidence Index (PCI) has climbed steadily since the middle of 2012 to record levels. The first quarter of 2014 continued this trend with 8- to 12-point jumps in the key summary indices. These summary indices are at their highest levels since the last quarter of 1996...nearly 17 years ago!
The Overall Index now stands at 151.8 (1996=100), up from 140.9 last quarter. The Present Situation Index increased to 161.4 from 153.0. The Expectations Index increased to 145.4 from 132.9.
Rising seasonal demand, declining costs and rising prices were the primary factors behind this continued wave of optimism.
Renewed confidence
Several PCI respondents predicted that poultry consumption would grow as we approach the traditional, high-usage summer months. Others expanded on this theme by citing renewed consumer confidence in poultry products.
Rising consumer confidence will most likely amplify these trends. The most recent Consumer Confidence Index said that "consumers expect the economy and their earnings to improve" while their "rising expectations suggest the economy may pick up some momentum in the months ahead." These optimistic feelings will benefit nearly all economic sectors, including poultry.
Continued and predicted declines in feed costs have had a powerful impact on renewed confidence. Feed costs dropped approximately $80 to $90 per ton during 2013. Several respondents cited "lower grain prices" as the primary reason for an expected increase in profits.
Declining fuel costs -- especially propane prices that skyrocketed to record heights for many producers during our brutal winter -- were another factor impacting cost perceptions.
Expectations of rising prices based on production constraints and high-priced red-meat proteins were the last piece of the optimism puzzle.
At this point in time, most analysts are predicting approximately a 2 percent rise in broiler placements for 2014 and a possible slight decline in turkey poult placements. Respondents noted that any increases beyond these levels could jeopardize demand, pricing and profits.
Summary
Confidence in the U.S. poultry industry has risen steadily over the last year and a half. The key economic factors seem positioned to sustain this trend for the near future. However, a spike in production -- while not anticipated -- would upset this delicate balance.