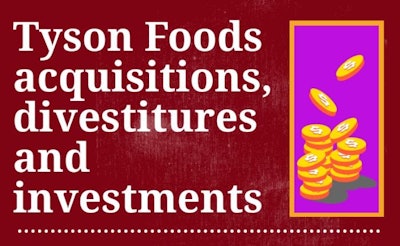 The past 12 months have been busy for Tyson Foods in terms of mergers and acquisitions, divestitures and investments in other companies.
Tyson Foods is the largest broiler company in the United States, and it recently announced plans for two acquisitions that would further solidify its leading position in the WATTAgNet Top Poultry Companies Database. The company earlier revealed it was acquiring Tecumseh Poultry, with that transaction closing on June 3. More recently, on August 20, Tyson announced it would acquire Keystone Foods, the tenth largest poultry company in the United States, with that acquisition expected to close in the middle of the company's 2019 fiscal year. Three other acquisitions were also made by Tyson Foods in the past 12 months.
Once known as a chicken company, Tyson Foods has over the years grown into a larger food company. During the same time frame, Tyson has invested in companies that specialize in alternative proteins such as plant-based protein and laboratory-grown meats. Tyson has invested in one plant-based protein business and two lab-grown or cell-cultured meat businesses.
"We play across beef, pork and chicken, of course. We are also playing across plant-based protein," Tyson Foods CEO Tom Hayes said in Feburary while speaking at the Consumer Analyst Group of New York (CAGNY) conference. "We are openly disrupting ourselves, to continue to drive to the next level of improvement, and to the next level of advantage for us and our shareholders."
As part of Tyson Foods' recent move to place its focus on growth as a protein company, it has been divesting of its non-protein businesses. Many of those subsidiaries were attained in August 2014, when Tyson Foods acquired Hillshire Brands. Most notable of those divestitures was the proposed sale of Sara Lee, which along with Van's, is to be acquired by private equity firm Kohlberg & Company.
The infographic shown below takes a look at the recent transactions and proposed transactions involving Tyson Foods over the past 12 months.

Share this Image On Your Site