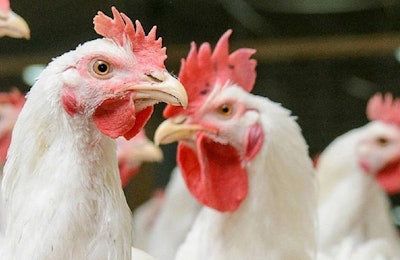 Find out what the ten most-read poultry-related news articles and blogs were during the month of January 2019. This list does not include content published prior to December 30, 2018.
Four of the six largest poultry companies in Asia are based in China, including the continent's top two companies.
The most recent case of virulent Newcastle disease to hit a commercial poultry flock involved 159,000 laying hens, according to a report from the World Organisation for Animal Health (OIE).
U.S. President Donald Trump told members of the American Farm Bureau Federation that the agriculture industry needs immigrant workers, but those workers need to be in the country legally.
Austin Alonzo: As the WATT PoultryUSA magazine editor, I feel compelled to write a prediction column to ring in the new year.
Seleggt is a patented process that can determine the sex of a chick just nine days after an egg has been fertilized.
Virulent Newcastle disease (vND) has been confirmed in a second commercial poultry flock in California, the United States Department of Agriculture's (USDA) Animal and Plant Health Inspection Service (APHIS) announced on January 8.
Two mortar shells were found at the construction site of the Sanderson Farms poultry complex in Smith County, Texas.
Tyson Foods is making changes to its enterprise leadership team as part of the integration of the recently acquired Keystone Foods and the company's global growth efforts.
Virulent Newcastle disease (vND) has spread into Utah, state and federal agencies confirmed.
Nebraska's Dodge County Board of Supervisors voted against a conditional use permit for a proposed poultry farm that would have grown chickens for the future Lincoln Premium Poultry plant.