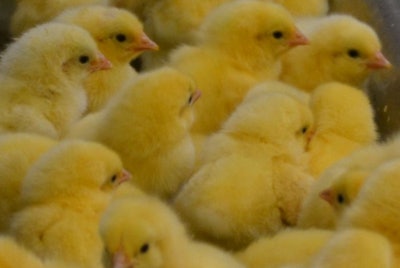 Stringent hygiene in the hatchery can help minimize contaminations and maximize the quality of your chicks, said Eddy Van Lierde, Aviagen hatchery specialist.
Speaking during the Delmarva Poultry Industry (DPI) 55th National Meeting on Poultry Health, Processing, and Live Production on September 30, Van Lierde said there are some areas that can be overlooked in keeping the hatchery as sanitary as it can be. Those areas include:
Surface and air plates sampling
In order to make sure that pathogens are kept to an absolute minimum in the hatchery, routine sampling needs to be conducted.
Air filters
"Many times, filters have been neglected," he said. "We like to work with rooftop units, where we do recuperate a lot of the air. If we don't have proper filters with air going back into those units … that air will go back into your hatchery and contaminate your whole hatchery."
Setter cleanliness
Setters are very difficult to keep clean, said Van Lierde. At a minimum, they should be thoroughly cleaned every six weeks. It is important to make sure that they are not just visually clean, but free from all bacteria.
Tray washers
Van Lierde describes tray washers as a "weak point." He said it is important to check the water temperatures and to make sure they are functional and cleaning effectively. They then need to be cleaned themselves and dried after use.
Hatcher baskets
Many times, hatcher baskets get dirty because chicks are in them too long, Van Lierde said. They need to be thoroughly cleaned and dried often.
In ovo vaccination units
Van Lierde said in ovo vaccination unit management and cleaning is of great importance. They are often not as clean as they should be.
"This is a very delicate process," he said. "If we do any wrong with the vaccination, or contaminate the vaccine, we will end up with a disaster. These units need to be clean. They need to be kept in a separate room, and they need to be checked for any residual or bacteria when not in use."
Drying hatchers and setters
It is very important to make sure that all hatchers and setters are kept dry, he said. When water is left on them, they can become infected with pseudomonas, which is a form of bacteria that tends to live and breed in water or in damp areas.
Chick boxes and dollies
Van Lierde advises against reusing chick boxes and dollies which have been on farms. They need to be washed often to assure good hygiene.