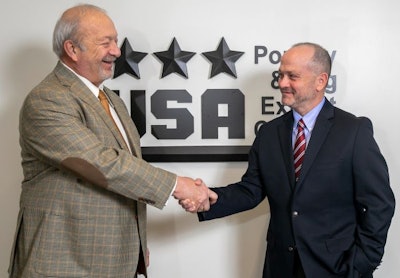 The USA Poultry & Egg Export Council (USAPEEC) Executive Committee has appointed Greg Tyler, currently USAPEEC's chief operating officer, as the council's next president and CEO. He will succeed Jim Sumner, who will be retiring from the position in June 2022 after 32 years leading the organization.
The announcement was made December 15 at the 2021 USAPEEC Winter Meeting.
Under Sumner, the percentage of U.S. chicken production that is exported tripled to about 18 percent, and in 2020 U.S. broiler exports reached 3.6 million metric tons, up 589 percent from 1990. Significant gains also were made in exports of turkey and eggs.
During his tenure, USAPEEC has grown to 16 international offices on four continents, helped open trade with dozens of countries from Mexico to China to Cuba, and launched the International Poultry Council (IPC) and World Poultry Federation (WPF).
Tyler has been with USAPEEC for 25 years, starting as director of foreign market development & Asian promotions, then being promoted to vice president and senior vice president for marketing before being named COO in July 2020. In those roles, he has supervised the international offices and marketing programs implemented in more than 75 countries.
Tyler, who holds bachelor's and master's degrees in agricultural economics from the University of Georgia, serves as Secretary/Treasurer of the U.S. Agricultural Export Development Council (USAEDC), an export-oriented association representing U.S. commodity trade organizations, farmer cooperatives, and state regional trade groups.
"Jim has an outstanding legacy at USAPEEC," Tyler said. "I've learned a great deal from him in the 25 years we've worked together. My role now will be to build on that and ensure that we adapt to the everchanging global environment with the goal of continuing to increase U.S. poultry and egg exports. This will be achieved through a dedicated worldwide staff and the generous support of our members and funding sources."
Said Sumner: "I'm so proud of what we've been able to accomplish in my time at USAPEEC, and grateful to have worked with so many talented people on the council and throughout our industry. I've truly enjoyed it. They've helped make this far more than a job for me. It's been a passion. And while this is not an easy decision, I know that USAPEEC is in good hands with Greg and our staff in the U.S. and around the world, and that they will continue to fulfill our important mission for many years to come."
Sumner will remain involved with USAPEEC as a senior advisor and will continue his roles with the IPC and the WPF. He also will continue to serve as the industry's representative to the Agricultural Policy Advisory Committee (APAC) and other groups.
The USAPEEC Executive Committee began the process to prepare for a transition three years ago in anticipation of Sumner's eventual retirement, appointing a succession committee whose work included reviewing candidates and choosing the next CEO. Identified as a top candidate, Tyler began sharing in some of the position's responsibilities a year ago. He officially will assume the post with Sumner's retirement after the 2022 USAPEEC Annual Meeting next June.
USAPEEC Chairman Chaz Wilson paid tribute to Sumner and said he expected the organization's success to continue under Tyler.
"Working with Jim for many years has been a privilege, both professionally and personally," Wilson said. "This line gets thrown around a lot, but it's really true in this case: he is a giant in our industry. He seems to know everyone and just about everything, and the work he has done to develop the export market around the world for U.S. poultry and egg products over three decades can't be overstated, and probably not duplicated. That said, no one is better suited and positioned than Greg to take over and carry USAPEEC forward in the coming years. He's proven himself in every arena and overcome every challenge, and we anticipate great things ahead with him at the helm."