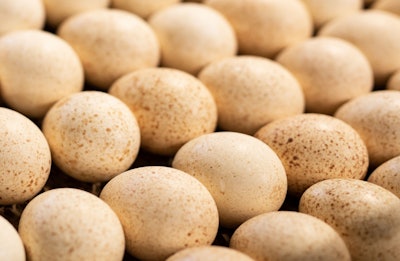 Select Genetics will build a new turkey hatchery in Wayne County, North Carolina.
The company will invest $58 million in the project, which will also include the establishment of turkey farms in the area, according to a press release from North Carolina Gov. Roy Cooper.
"I'm excited that we chose Wayne County for our new state-of-the-art turkey hatchery, which will be a great asset for our customers and the community," said J. Douglass, CEO of Select Genetics. "Our team of experts has carefully designed the hatchery to utilize the latest hatching technology, which represents our ongoing commitment for hatching the best poult quality."
Douglass said the new hatchery will have a production capacity of about 55 million turkey eggs per year.
The company is consolidating existing hatcheries into the new 100,000-square-foot climate-controlled facility, the press release stated. It is expected to be a major poult supplier for North Carolina and neighboring states.
"North Carolina ranks second in the nation for turkey production, making it a great fit for Select Genetics," North Carolina Commerce Secretary Machelle Baker Sanders said.
Cooper added: "Our farming legacy continues to attract innovative agriculture companies. North Carolina's $95 billion agriculture and agribusiness economy continues to evolve and grow, creating more opportunities for our hardworking and skilled workforce."
The new jobs that come with this hatchery are expected to have a potential annual payroll impact of more than $1.1 million for the region.
Headquartered in Willmar, Minnesota, Select Genetics, a partnership between Life-Science Innovations and EW Group, has an 80-year history in the turkey breeding and hatchery industry, providing eggs and day-old poults to its customers. Among those with whom Select Genetics supplies are independent farmers and major turkey companies, including North Carolina-based Butterball.
A performance-based grant of $75,000 from the One North Carolina Fund will help with Select Genetics' location in North Carolina. The One NC Fund provides financial assistance to local governments to help attract economic investment and create jobs. Companies receive no money upfront and must meet job creation and capital investment targets to qualify for payment. All One NC grants require matching participation from local governments and any award is contingent upon that condition being met.