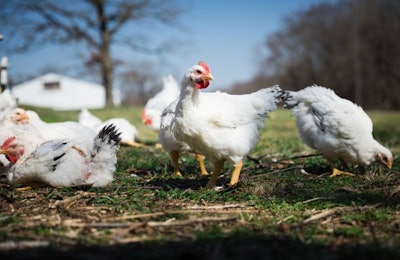 Whole Foods, Sprouts Farmers Market, Blue Apron and other food companies in the U.S. publicly reported progress toward Better Chicken Commitment animal welfare guidelines and the use of slow growing broilers, according to Compassion in World Farming (CIWF).
According to the third annual ChickenTrack report, Applegate, Blue Apron, ButcherBox, Cafe Spice, Farmer's Fridge, Natural Grocers, Sprouts Farmers Market, Square Baby, Sweetgreen, The Cheesecake Factory, Thrive Market and Whole Foods Market demonstrated changes in stocking density and provided enrichment to the broilers chickens sold by each company.
"At Whole Foods Market, we're proud to have long maintained rigorous Quality Standards across our store, including industry-leading animal welfare standards in our Meat Department," said Carol Medeiros, Vice President of Quality Standards at Whole Foods Market.
"We take the issue of broiler chicken welfare seriously and sincerely appreciate the important work of Compassion in World Farming. We're proud of the progress we have made and look forward to continuing to work with Compassion in World Farming and stakeholders across the industry to raise the bar for animal welfare and responsible sourcing practices."
More than 200 food companies have signed the Better Chicken Commitment pledge. The animal welfare guideline requires signatories to source chicken certified by the Global Animal Partnership (GAP) by 2026, or meet several elevated welfare standards by 2024, including a maximum stocking density, functional enrichment and the use of only BCC approved poultry breeds.
U.S. Working Group for Broiler Welfare formed
The report also detailed the formation of the U.S. Working Group for Broiler Welfare, designed to help companies collaborate on ways to improve broiler welfare.
This group is facilitated by Compassion USA and Blue House Sustainability Consulting and includes Aramark, Compass Group, Nestlé USA, Panera Bread, Shake Shack, Sodexo and Target.
"Bringing restaurant leaders together in the Working Group will help us collaborate and innovate across all parts of this important transition – from impacts on farmers to measurement of animal care," said Sara Burnett, VP of Food Values, Sustainability & Public Affairs, Panera Bread.
"These discussions will help us as we continually strive to provide responsibly raised proteins."