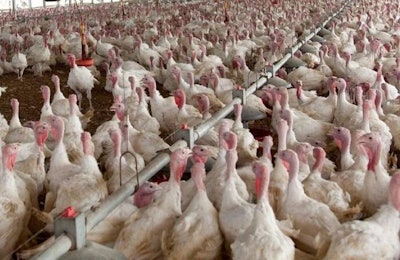 The avian influenza control area in Dubois County, Indiana, was lifted on February 22, officials with the Indiana State Board of Animal Health announced.
According to the Indiana agency, a 10-kilometer control zone around a commercial turkey farm in Dubois County after highly pathogenic H7N8 avian influenza had been detected on the farm on January 15.
That initial farm was the only one where highly pathogenic avian influenza had been detected, but a low pathogenic form of H7N8 avian influenza was confirmed in nine other nearby turkey flocks.
Animal health officials took extra precautions when avian influenza was detected at those farms. It expanded its surveillance an additional 10 kilometers beyond the control area, and a nearby layer flock where the virus was not found was depopulated.
All affected properties have since been depopulated. The farms have been tested and all test results have come back negative, allowing the Indiana State Board of Animal Health to lift the control area. With the lifting of the control area, poultry owners, both commercial and residential, within the area are now allowed to resume normal operations and movements of birds and poultry products. The secondary surveillance zone has also been lifted.
However, according to the Indiana board, quarantines remain at the sites where avian influenza was confirmed until specific cleaning and disinfection requirements have been completed.
"We are pleased to be where we are today, just 38 days after HPAI was identified in Dubois County," Indiana State Veterinarian Bret D. Marsh, DVM, stated in a press release. "This is an unprecedented event for the state of Indiana, and the level of cooperation and response at all levels has been incredible. The BOAH team and I are grateful for the hard work of our local, state, federal and industry partners who came together to bring this event to a close."
A total of 413,163 birds were depopulated in Indiana as a result of the outbreak.