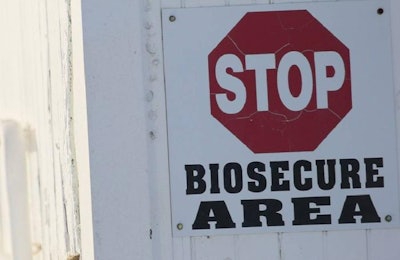 A control zone has been set up around the Ontario duck farm where low pathogenic H5 avian influenza was confirmed.
The farm which housed 14,000 ducks, is located near St. Catharines, Ontario. Further testing at the farm confirmed that the ducks were infected with H5N2 avian influenza.
According to a press release from the Canadian Food Inspection Agency (CFIA), the control zone includes the area within a three-kilometer radius of the affected farm, and all properties located within the control zone will be placed under quarantine. According to Chicken Farmers of Ontario, one commercial broiler operation and 23 farms with backyard poultry are located within that zone.
At this point, CFIA stated, avian influenza has only been confirmed at the one farm. The farm owner, governmental agencies and the Canadian poultry industry have been working closely together to monitor the situation. All birds at the affected farm are being euthanized.
The latest avian influenza outbreak, reported by the CFIA on July 7, is the first confirmed case of avian influenza reported in Canada since April 2015. During that month, one broiler breeder farm and two commercial turkey farms were infected, affecting about 79,800 birds. All three of those cases occurred in Oxford County, Ontario, which is west of St. Catharines.
CFIA is reminding all poultry farmers to practice a high level of biosecurity to help prevent the spread of the virus.