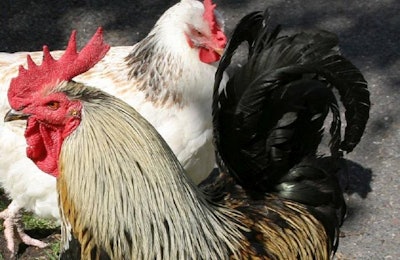 Five new cases of virulent Newcastle disease (vND) was confirmed in backyard exhibition chickens in Riverside County, California during the week of November 30 – December 6, the United States Department of Agriculture's (USDA) Animal and Plant Health Inspection Service (APHIS) announced.
The new vND cases were confirmed as the California Department of Food and Agriculture (CDFA) is ordering that all birds be euthanized in Compton (Los Angeles County), Muscoy (San Bernardino County) and Mira Loma/Jurupa Valley (Riverside County). That order was announced in late November by California State Veterinarian Annette Jones, who said euthanizing the birds was necessary to help prevent the further spread of vND.
"Unfortunately, even if birds and flocks have previously tested negative but now happen to fall within a designated mandatory euthanasia area, the birds must be euthanized," Jones stated in a message on the California Department of Food and Agriculture (CDFA) website.
"While this action is difficult for all involved, it must be done to eradicate vND. Otherwise, the disease will continue to spread and kill additional flocks."
The first case of vND in California in 2018 was confirmed on May 18. Since that time, the disease has spread. According to APHIS, there have now been 190 cases of vND in California. Of those, 104 have been in San Bernardino County, 46 have been in Riverside County, 39 have been in Riverside County and one has been in Ventura County.
To date, nearly all of the confirmed cases have been in backyard exhibition birds. However, vND has also been confirmed in a live poultry market in Los Angeles County and a flock of hobby turkeys, also in Los Angeles County.
Samples from the flocks were tested at the California Animal Health & Food Safety Laboratory System. The APHIS National Veterinary Services Laboratories in Ames, Iowa, confirms all findings. APHIS is working closely with the CDFA to respond to these findings and to conduct an epidemiological investigation. Federal and State partners are also conducting additional surveillance and testing in the area.
There have not been any cases of vND, formerly known as exotic Newcastle disease, in commercial poultry flocks since 2003.
APHIS stated that if there is a vND finding in a new state or in a different segment of industry, it will issue an announcement of the case immediately.