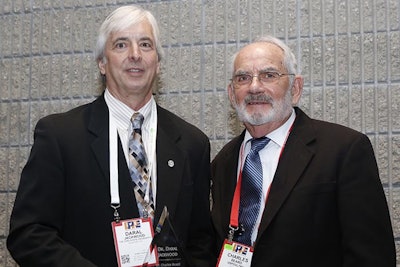 The U.S. Poultry & Egg Association (USPOULTRY) and the USPOULTRY Foundation are proud to recognize Dr. Daral Jackwood as the 2018 recipient of the annual Charles Beard Research Excellence Award. Jackwood is a professor in the Department of Veterinary Preventive Medicine at Ohio State University and is stationed at the Ohio Agricultural Research and Development Center in Wooster, Ohio. The award is named in honor of Dr. Charles Beard, former director of the Southeast Poultry Research Laboratory and former vice president of research at USPOULTRY.
The USPOULTRY Foundation Research Advisory Committee selected Jackwood for this award based on his exceptional research on infectious bursal disease. Jackwood is recognized for his contributions to the understanding of the genetic diversity of infectious bursal disease virus, the genetic basis for antigenic drift in the virus, development of detection methods for very virulent infectious disease virus, and development of a genetic classification system for infectious bursal disease virus variants. Jackwood served as the primary investigator on five grants from USPOULTRY and the USPOULTRY Foundation to support much of this work. In his role at Ohio State, Jackwood has very actively communicated his findings through publications and presentations, and his work has formed much of the basis for current programs used to control infectious bursal disease virus infections in the poultry industry.
"The U.S. Poultry & Egg Association has been very supportive of our research program over the years, and I am very grateful for this support. The support of the Association has helped us to make meaningful advances in the control and diagnosis of infectious bursal disease," commented Jackwood.
"Dr. Jackwood's research program is a great example of how USPOULTRY research funds can be directed toward important applied research to find solutions to current problems faced by the poultry industry. The quality of Dr. Jackwood's research is outstanding, and the results have been used by the poultry industry to make improvements in the control of infectious bursal disease," remarked Dr. John Glisson, vice president of research programs for USPOULTRY.
Jackwood received a B.S. in Animal Science from the University of Delaware in 1978, M.S. in infectious diseases from Ohio State in 1980 and a Ph.D. in molecular virology from Ohio State in 1982. He joined the faculty at Ohio State in 1986.
The goal of the Charles Beard Research Excellence Award is to recognize outstanding completed research projects, funded by USPOULTRY or the USPOULTRY Foundation, that have made a significant positive impact on the poultry industry. As the recipient of the award, Jackwood received a US$1,500 cash prize. The award was presented to him during the International Poultry Scientific Forum meeting by Dr. Charles Beard.