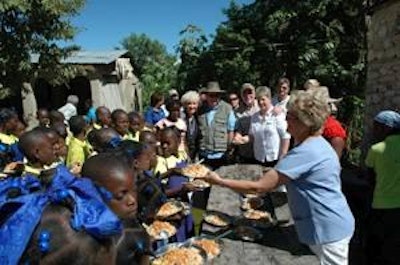 This is the story of how a U.S. poultry producer's quest to donate a single load of chicken to hungry children in Haiti turned into the donation of 15 ocean-going ship containers as poultry industry partners and friends joined in the project.
Like millions of Americans, Mike Welch awoke January 12, 2010, to the news of the earthquake that had devastated the nation of Haiti. The earthquake, the worst in the region in 200 years, killed an estimated 250,000 people and reduced the capital, Port-au-Prince, to rubble.
Welch, president and CEO of Harrison Poultry, knew about the challenges facing the people of Haiti. The north Georgia church of which he is a member is involved in food donations in Haiti. The country has been living the ongoing disaster of near-constant political upheaval, health crises and an annual barrage of hurricanes in recent years. Four out of five of the 8.7 million people there live in poverty and one-half in abject poverty.
Visit to Fond Parisien, Haiti
Welch felt burdened to assist in the relief effort in Haiti, but he wanted a first-hand look at how people were being helped. He knew about a charity called Love A Child because of donations his church makes there. He arranged to visit the charity's orphanage and school in Fond Parisien, Haiti.
"I wanted to find out about Love A Child and get a dose of reality," he said. "You can watch Haiti on TV and not be able to understand what is going on. You can ride around on the streets of Port-au-Prince and get more of an idea but still not know who's who and what makes things happen. But you can learn a lot more about Haiti by spending time talking with people who live there."
Accompanying Welch on the visit were Larry Guest, sales manager for Harrison Poultry, and Steve Saieh, owner of STS/Tasha Store, the chicken distribution business that handles Harrison chicken in Haiti. Welch already had in mind putting Saieh's local connections to work to help get chicken to the children in Fond Parisien.
"Missionaries Bobby and Sherry Burnette, the founders of Love A Child, sat on the porch at the orphanage and talked with us. We toured Love A Child's food distribution center and Miracle Village, where new housing has been constructed by Love A Child for Haitians displaced by the earthquake. Then we went home," Welch said.
Faces of the children
It was the first of two visits to see the work being done by Love A Child, and Mike's wife, Rebecca, accompanied him on the second visit. "When you go to the orphanage and see the children there, they are happy, well fed and being educated. Those children, I believe, will make a difference in Haiti someday. But when you get outside of the orphanage and see the children not being helped, it is sad. They are dying of malnutrition. Their bellies are bloated. Their hair is turning red and brittle. They are so hungry that they will eat dirt and rocks to fill up their tummies so they don't feel as empty. Their mothers and fathers tell them to sleep on their stomachs at night so they won't feel as hungry," she said.
A will to help but hurdles to clear
A couple of things from the visit impressed Welch – Love A Child's 4-star rating from Charity Navigator, America's largest evaluator of independent charities, and the fact that Love a Child was efficiently distributing nutritionally fortified rice to families in the villages and the mountains surrounding Fond Parisien. That rice, being donated by the Minnesota-based charity Feed My Starving Children, would be even more beneficial for hungry Haitians if topped by chicken, he reasoned.
Still, the goal for the donation of chicken was a very limited one, Welch admitted. "Larry Guest and I knew we couldn't ship frozen leg quarters to Fond Parisien, because there is no refrigeration in the Love A Child food distribution center. So we began to look for a load of shelf-stable chicken at a reduced price. The idea was to ship one container of chicken. It was going to soothe our consciences."
Ask and ye shall receive
Things changed dramatically after Welch and Guest told Robin Burruss of Tip Top Poultry about the need for a load of canned chicken. At first, nothing seemed to be happening, Welch recounts, but a few weeks passed and Burruss phoned with exciting news. He had located not one load of chicken at a reasonable price but 17 truck loads of canned chicken and price was not an issue.
The chicken, which Mike Downs of Downs Food Group was willing to donate for the relief effort, was in a cold storage warehouse in Minnesota. Issues involving labeling, expiration codes and shipping, however, had to be solved. The chicken was bright stacked (unlabeled) having failed to meet a customer's color specification and was nearing the limit of its expiration code.
More volunteers
With every new challenge, new people joined in the project. Burruss and Downs were just two of many industry people who played essential roles at critical moments. Before the chicken could be shipped, USDA had to approve labeling for the product and the labels applied. Two months passed with the clock ticking on the expiration coding. Once USDA approved the labels, Downs arranged for them to be applied in a packaging facility manned by handicapped workers to help save on costs.
Getting donated chicken packaged and shipped to Haiti, of course, wasn't free. Industry friends pitched in to help with the expenses. Clover Leaf Cold Storage tore up the invoices for its storage services upon learning that the chicken was to feed hungry people in Haiti. USA Poultry & Egg Export Council International Poultry Development Program paid the packaging costs for the humanitarian mission. Steven Anderson, president of Lamex Foods, paid for the trucking of the 17 loads to the Miami warehouse from where it would be shipped in ocean-going containers to Port-au-Prince.
Warehousing and stuffing in Miami
Timing and logistics worked perfectly for the project in Miami. When the canned chicken was ready to be shipped from Minnesota, Steve Saieh was in the process of moving his company's U.S. warehousing operation from Miami to Jacksonville. This left the Miami warehouse vacant to tranship the canned chicken until the lease on the facility expired. The 17 truck loads were received, stuffed and shipped to the Miami port by STS's Nacim Doura with just a few days to spare.
Paule Bedard, account executive at Seafreight in Miami, played a role in the mission by adding a special Love A Child shipping rate to the shipping line's book. "The special rate, available only to Love A Child, amounted to a donation," Welch explained.
By September 2011, the first containers landed in Port-au-Prince, but not without an unnerving delay in port. The first five containers sat in port for a month uncleared by customs officials. Finally, however, the containers were released and ready to be picked up by Love A Child for trucking to its food distribution center in Fond Parisien.
One final logistical hurdle
The night before the first container load was to be picked up in Port-au-Prince, Welch received a phone call from the man in charge of Love A Child's transportation operations. Up until that point, nobody had considered the fact that the gross weight of the container of chicken and chassis was considerably more, at 90,000 pounds, than the containers of rice typically transported by Love A Child at 40,000 pounds. Welch paid for a new set of tires for the Love A Child tractor and trailer. "I had promised that the chicken would be free to Love A Child," he explained.
No one recruited for chicken in Haiti mission
Welch still marvels at the camaraderie of the industry people involved in the chicken for Haiti project. "I never recruited anybody. The way that people became involved was through asking me a question about what was going on, and I would tell them," he said.
There were many unseen hands in the project. "I would walk into my office and there would be an envelope on my desk where somebody had written a check to Love A Child and laid it on my desk. People were simply aware of things because they saw us doing all this stuff."
What's next for chicken in Haiti?
At the time this article was written, the canned chicken in the 15 ship containers had been distributed and eaten by hungry Haitians. So, what's next?
Love A Child is planning the construction of a new 30,000-sq.-ft. food distribution center, which is to include enough refrigeration to store a limited amount of frozen foods, including chicken. (Read more about the project in editor Gary Thornton's column: Haiti is aided by more than US chicken.)
"We probably won't have access to large amounts of donated canned chicken in the future," Welch said, "but we can ship chicken leg quarters or backs periodically to Love A Child. This may not be sufficient to feed all of the people in the mountains and the villages but would be enough to help the people in the immediate locale of Fond Parisien, the kids in the Love A Child School and the Medical Center. Those are the needs that we are hoping to supply on an ongoing basis."
Other Love A Child projects under construction include a large marketplace near Miracle Village. The cost is estimated to be $862,000.
Bobby Burnette said the marketplace will bring Haitians together to develop a sustainable economy. "Our goal is to help them successfully manage a sustainable business using their skills and selling their products. This project will enable the Haitians to become more self sufficient," he said.
Unseen benefits
"People in the U.S. poultry industry are still talking about the chicken for Haiti project," Welch said. "The project probably did more for the people in the U.S. than the people in Haiti. There may be people here who are encouraged and may get the ball rolling in ways that you and I will never know. Maybe it is none of our business how it turns out. That's the part that I like."