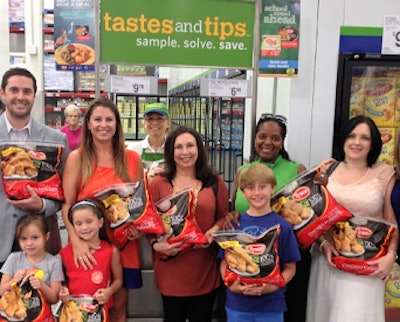 Tyson Foods will donate the meat for as many as 308,000 meals to families across America for every 5-pound bag of Tyson chicken nuggets purchased at Sam's Club stores between August 15 and September 1. The donation is part of the "Be a Hunger Hero" campaign to educate kids about childhood hunger through coloring books and secret identity cards given at six nationwide in-store demonstrations throughout the month of August.
The "Be a Hunger Hero" campaign, created through a partnership between Tyson Foods, the Tyson Foundation, Champions for Kids and Sam's Club, aims to fight childhood hunger by providing four ounces of protein for each meal to families in need.
The partnering organizations expect the campaign to spread awareness about childhood hunger and teach children that small steps can go a long way toward helping someone who needs it.
"The 'Be a Hunger Hero' program encourages young people to don the identity of a superhero," said Blake Brandes, chief program officer for Champions for Kids. "When helping people is part of who we are, we don't help others out of a sense of obligation. We help them out of a deep and personal commitment to improving the world around us."