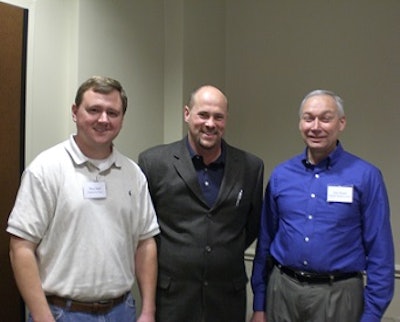 The North Carolina Poultry Federation (NCPF) held its 4th quarter board meeting at the North Carolina State University (NCSU) Club on December 20. Special guests participating were Dr. Paul Lunn, dean of the NCSU veterinary school, and Dr. Eric Gonder, Butterball, who gave an update on the National Poultry Improvement Plan (NPIP).
Honorary board members Dr. Mike Williams, head of the NCSU Prestage Department of Poultry Science; Dr. Sarah Mason of North Carolina Department of Agriculture and Consumer Services (NCDA&CS); Jan Kelly, executive director of the North Carolina Egg Association; Kim Decker, NCDA&CS; and Henry Jones, Jordan Price Law Firm, each gave reports or updates.
New NCPF board members Joe Steed, Perdue Farms, who is representing the North Carolina Breeder Hatchery Association, and Wes Hall, Sanderson Farms, were welcomed by NCPF President Dan Peugh and Executive Director Bob Ford.
Prior to the general session, the executive board met with Phil Greer of Lewis Advertising to strategize the 2014 advertising and promotional campaign.