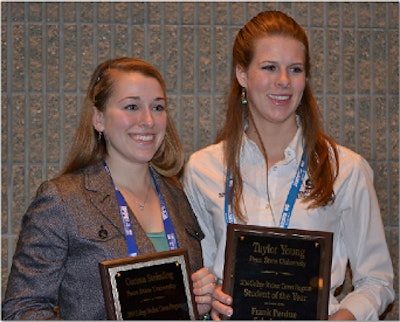 Taylor Young, Penn State University, was named the Frank Perdue Scholarship Student of the Year at the annual USPOULTRY College Student Career Program, held in conjunction with the 2014 International Production & Processing Expo in Atlanta. The scholarship is named for Frank Perdue, noted for his dedication to aspiring young people studying for careers in the poultry industry, and who for many years would attend the College Student Career Program to interview students.
The College Student Career Program provides undergraduate and graduate students from colleges and universities across the nation and internationally, in multiple disciplines, with the opportunity to interview for jobs and internships with industry and allied companies. These students can also visit the exhibit floor to complement their studies and to see and experience the latest technology and newest innovations in today's poultry and egg production and processing operations.
"There were approximately 500 students from 30 universities throughout the United States at the USPOULTRY College Student Career Program, in addition to 24 students from 14 universities internationally. We are very pleased with the number and quality of applicants, and I know a number of hiring decisions were made at the program," remarked USPOULTRY Chairman Elton Maddox, Wayne Farms, Oakwood, Ga.
The annual program also includes competitions for Club of the Year and Scrapbook of the Year. North Carolina State University was awarded Club of the Year, and Texas A&M University was awarded Scrapbook of the Year.