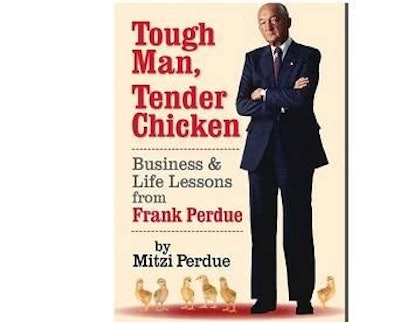 The story of longtime chairman of Perdue Farms Frank Perdue is being told in a new book Tough Man, Tender Chicken. The book is written by Perdue's widow, Mitzi Perdue, a professional writer and longtime syndicated columnist for Capital News and Scripps Howard.
One of the food industry's most famous entrepreneurs, Frank Perdue, along with his father, built a business that turned a commodity into a highly sought-after brand. Anyone who's seen his TV commercials or eaten his chicken is aware of the business legacy of Frank Perdue. Today, with substantial thanks to Frank Perdue, more than 8 billion chickens are consumed in the United States every year.
Tough Man, Tender Chicken brings the story of Frank Perdue's business acumen to life through interviews with friends and foes who knew and worked with him. This is the story of how he built his small chicken and grain company into a leading international company that today employs 19,000 people and sells its products in more than 100 countries.
Perdue's folksy ads made him the No. 1 marketer in the country and for the millions who got to know him in their living rooms through his ads, Tough Man, Tender Chicken reveals what this entertaining, and often brilliant, man was really like.
Known in the industry as a demanding, occasionally difficult personality, he also commanded a stunning loyalty from those who worked with him. His legacy is profiled in Tough Man, Tender Chicken in both the business and life lessons that guided him throughout his career. Entrepreneurs would do well to read his Ethical Will left to his grandchildren and family along with his estate, stated Mitzi Perdue.
MBA students, entrepreneurs, marketers, and business people in general can find the real-life stories of Frank's life and business lessons inspirational. And Mitzi Perdue, a writer with a degree in management, was there to record his decisions, theories, and approaches in real time. It's a unique vantage point, since few captains of industry had their own writer recording their lives.
Tough Man, Tender Chicken will be available on Amazon for $20.00 and on Kindle for $9.95 by November 15.