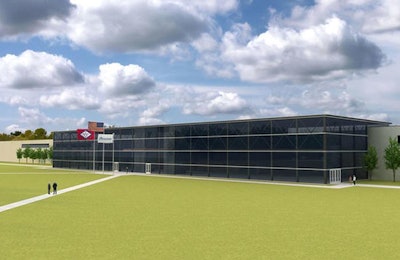 Simmons Foods expects its new poultry processing plant in Benton County, Arkansas, to be operational in October.
The company recently gave local leaders and media personnel a tour of its the 315,000 square-foot facility, located between the communities and Gentry and Decatur. The new plant will replace the current facility in Decatur.
About 1,500 jobs will be created when the facility reaches full capacity. Roughly 800 people are employed at the present plant in Decatur, and those workers are being offered continued employment at the new plant, bringing the potential poultry facility's workforce to 2,300. To fill the job vacancies, Simmons has opened a hiring center in Siloam Springs where prospective employees can go through the hiring process in as little as 40 minutes and walk out with a job, reported the Westside Eagle Observer.
"This will be the best top-end plant that I've ever seen," Russell Tooley, chief administrative officer for Simmons Foods, told the Eagle Observer. "It's world class. It's not just good for western Benton County, not just good for Arkansas. I think it will really set the tone in the industry for what 'good' looks like."
Simmons Foods announced its plans to build the new plant in September 2017 and dedicated the site in June 2018.
At the time the project was announced, Simmons Foods said the facility will produce fresh and frozen chicken products for retail and restaurant customers with capacity to sell approximately 850 million pounds of poultry meat annually at full production.
About 300 contract farmers will grow chickens for processing at the plant.
Simmons Foods, according to the WATTAgNet Top Poultry Companies Database, produced 13.62 million pounds of ready-to-cook chicken on a weekly basis in 2018, the same amount as 2017. Its 2018 sales were $940 million, an increase from $902.7 million in 2017. Simmons sales break out 34 percent export, 36 percent foodservice, 20 percent industrial and 10 percent retail.