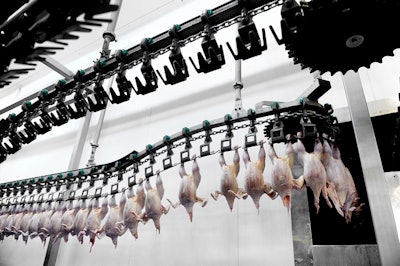 Getty Images/iStockphoto
Industry groups are worried proposed regulations designed to prevent foodborne Salmonella infections may bring unwelcome changes to poultry processing.
New regulations
In October 2022, the U.S. Department of Agriculture (USDA) Food Safety and Inspection Service (FSIS) published its proposed framework to reduce Salmonella infections linked to poultry products.
In January 2023, the agency published its 2023-2026 Strategic Plan, which it says will advance the proposed regulatory framework. USDA expects it to be in place by May 2024.
Industry reaction
Following the announcement of the proposed regulations, FSIS allowed comments to be submitted until December 16, 2022. Many organizations praised FSIS for its efforts thus far to drive down Salmonella prevalence in processing plants. However, three common themes presented themselves among the responses:
Testing incoming flocks for Salmonella is an overreach of FSIS authority.
Establishments should have the freedom to control Salmonella through their Hazard Analysis and Critical Control Points (HACCP) plans.
The proposed framework is not based on science, data or the results of a risk assessment.
Preharvest testing
Organizations are concerned about the implications of requiring producers to test incoming flocks for Salmonella. Industry experts believe the agency is attempting to incentivize producers to implement preharvest interventions to reduce the level of Salmonella in processing plants.
The National Chicken Council (NCC) said although the Poultry Products Inspection Act (PPIA) provides FSIS with jurisdiction over birds when they enter an establishment, the proposal would require testing at the farm level to prevent significant production delays. However, this qualifies as an on farm-level testing program and is outside the scope of the PPIA, even with the verification taking place at the processing plant.
Additionally, the NCC, the chicken industry's interest group in Washington, said there are currently no Salmonella sampling processes for testing birds upon plant arrival that are timely and accurate to prevent processing delays. Testing incoming birds upon arrival would involve them being held prior to processing for a substantial amount of time while waiting for test results.
The National Turkey Federation (NTF), the turkey industry group in Washington, said the holding time required to test birds upon arrival could result in unintended animal welfare consequences. Additional research is needed to determine these welfare effects.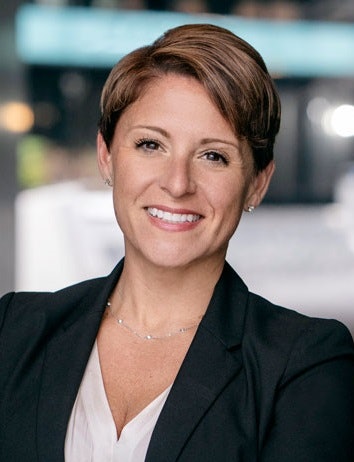 Ashley Peterson, Courtesy of National Chicken Council
In a November 2022 press release, Dr. Ashley Peterson, the NCC's senior vice president of scientific and regulatory affairs, expressed her concerns about the effects preharvest testing could have on the chicken supply.
"This component (preharvest testing) risks reverting to a long-abandoned command-and-control approach whereby FSIS inspectors make decisions about how plants operate," Peterson said. "In this time of extreme inflation coupled with ongoing food security challenges, a command-and-control approach will do nothing to improve public health, it will only remove chicken from the meat case."
In NTF's comment to FSIS, it said predictive pre-harvest sampling methods that can inform post-harvest practices and forecast the status of finished products are not well understood. A technical session was recommended for the agency to address this.
Furthermore, if the agency were to establish testing for incoming flocks, a Salmonella threshold would need to be determined.
NCC emphasized enforcing a Salmonella threshold essentially implies Salmonella is an adulterant and that the finished product produced from birds with Salmonella levels exceeding that threshold will not be able to be addressed through processing.
If FSIS were to restrict the use of those flocks, there is currently no process for a producer to correct the alleged adulteration unless the establishment's HACCP plan can address it.
HACCP
Many comments said FSIS' proposal is a one-size fits all approach which removes HACCP's ability to work in different processing plant layouts.
Since HACCP's implementation, the NTF said, a greater than 50% reduction of Salmonella prevalence in ground turkey has been observed. The reduction was attributed to the ability of individual processing plants to design a HACCP plan that is reflective of their unique process.
Producers are concerned FSIS's proposed framework is a universal approach. Processing plants are not identical to each other. Therefore, the NTF suggested in its comments that FSIS allow establishments the freedom to identify, mitigate and control risk as appropriate for their system.
Even though FSIS put policies in place that expanded the effectiveness of the HACCP system, many organizations encouraged the agency to reevaluate its approach and better assess how new policies can be applied within a HACCP plan.
Scientific approach
Multiple comments explained how the agency's proposal lacked a basis in science and data-driven solutions, and suggested it take a more measured approach.
According to NCC's comments, more research is needed to support three key missing data elements in the proposed regulations:
There is currently not enough data to support the contention that Salmonella levels on incoming flocks overwhelm food safety systems or would need to be monitored.
More data is needed to demonstrate that setting a Salmonella-based finished product standard would have public health impacts.
There is currently no data to suggest additional testing during the process, beyond what is already being done, would be impactful.
Without this extra data to support the agency's proposal, it is difficult to give meaningful feedback on the proposal. For example, FSIS lacks the data in its proposal to support a requirement of 1 colony forming unit (CFU) per gram of finished product, given the agency's current limit of detection is 10 CFU/g.
Performing risk assessments to address the public health impact of the proposed regulations was suggested as the most appropriate course of action, before implementing any regulations.
USDA plans overhaul of food safety regulation www.WATTAgNet.com/articles/43902