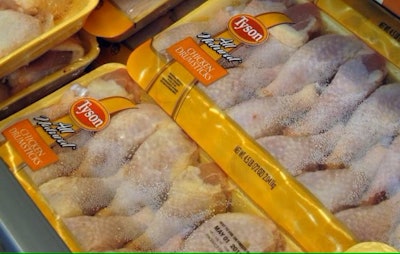 Andrea Gantz
Tyson Foods CEO Donnie King described the company's August 7 announcement that it would close four more poultry plants as an example of how the company is "demonstrating (its) commitment to taking bold actions to improve performance."
The company early in the morning announced that the poultry plants in North Little Rock, Arkansas; Corydon, Indiana; Dexter, Missouri; and Noel, Missouri, would close during the first half of fiscal year 2024, and that the capacity from those plants would be transferred to other Tyson facilities.
Executives from Tyson Foods elaborated on the closures later that morning, during a conference call that coincided with the release of the financial results of the third quarter of fiscal year 2023.
"Closing plants is never easy for anyone. In fact, it can be gut-wrenching," King said.
However, continuing operations at those four plants, which he describes as "smaller in scale," as they are now did not make economic sense. Nor did it make sense to invest in capital improvements at the facilities to make them more efficient, he said.
"These assets that we're shuttering would have required significant capital in order to make them competitive, and if you look at the returns on those, it really didn't make sense to do that," said King.
The announcement to close these four plants follows the closure of two other Tyson poultry plants, which took place earlier this year. Those two plants were in Van Buren, Arkansas, and Glen Allen, Virginia, and the decision to shutter those facilities was based on similar economic reasons.
Wes Morris, Tyson Foods' poultry group president, said because the production from the closing plants will be transferred to other facilities, there will be "no material change in the volume in any way, shape or form."
King added that after the changes take place, Tyson will still have "ample capacity to service and grow with our customers."
Further closures not out of the question
Analysts participating in the earnings call asked if more plant closures could be expected, and if it was evaluating its network of pork and beef plants in a similar way that it has with its poultry plants.
King, who earlier in the call said the company was leaving "no stone unturned" to maximize company profitability and return to shareholders, reiterated those points.
"We are looking at everything and how it works across the board. Fundamentally, we are focused on executional excellence across all businesses in Tyson, including the overhead and cost structure in our corporate facilities. I'm not telling you we're not looking at beef and pork in the same manner that we have looked at chicken. We're evaluating everything," King said.